The Week Panel: Was the Media Biased, Or Was Obama Just the Better Story?

Assessing the impact of the press on the presidential race.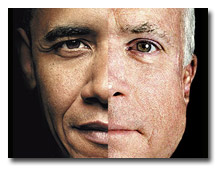 RELATED SLIDESHOW: Covers of the Campaign
NEW YORK—During a wide-ranging discussion entitled "The Media and the Presidency" hosted by the Week magazine at Rockefeller Center's Rainbow Room last night, six panelists—three from television (MSNBC's Joe Scarborough, 60 Minutes' Lesley Stahl and ex-CBS News anchor Dan Rather, now with HDNet), two political advisors-turned-pundits (Robert Shrum and Edward Rollins) and one new media guy (Slate's Jacob Weisberg)—assessed the 2008 presidential campaign and the role the media played in it.
Scarborough, who introduced himself as the host of Morning Joe—"now with a seven-second delay"—said the media was clearly biased toward Barack Obama and against Hillary Clinton and John McCain, but admitted Obama ran "the best campaign I have ever seen."
But if the campaign was a "game of streetball," Rather said, "McCain was playing in street clothes and street shoes."
Lesley Stahl—who said she watched most of this campaign, unlike others she had covered, from "her bedroom"—said McCain "did such a dreadful job as a candidate" the media had no choice but to cover Obama.
"McCain was like the 1962 Mets," said Shrum, who had served as a senior advisor to the Gore-Lieberman and Kerry-Edwards tickets in 2000 and 2004, respectively. "They couldn't cover him positively."
Shrum added that there was a natural bias because the Obama-Clinton race lasted longer than the race for the Republican nomination.  "A Time magazine cover with John McCain in April would've looked ridiculous," he said, "because McCain had it locked up."
"Obama was new," Weisberg said. "It had to do with a bias toward the story." Weisberg also suggested the media-at-large kept Hillary Clinton in the race for the Democratic nomination longer than she should have been. "It was [becoming] mathematically impossible," Weisberg said. "But [a longer campaign] serves the interests of the media."
Weisberg added that while Obama's oratory skills were universally celebrated, few talked about his "skill as a writer" and "sense of language," which moderator and Week editor-at-large Sir Harold Evans described as "incandescent."
Rather, who filed a $70 million lawsuit against CBS for making him a "scapegoat" in the so-called "Rathergate" controversy in 2004, said Republicans "need to get hip to the Internet and things like YouTube." (Ironically, it was the Internet, specifically conservative bloggers, which spurred on "Rathergate" and led to the newsman's undoing at CBS.)
With the exception of Scarborough, the panelists agreed that the press coverage of Sarah Palin was fair, and disputed the notion that Palin was "destroyed by comedy." Rollins, a senior advisor to Mike Huckabee, said there was never a conversation between McCain and Huckabee—or, for that matter, Mitt Romney—about the vice presidency.
PHOTOS: Time; ILLUSTRATION: FOLIO:
Meet the Author
---