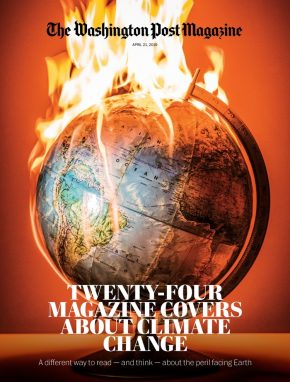 "A successful magazine cover makes a statement," wrote Richard Just, editor of The Washington Post Magazine, in a note accompanying the Sunday insert's April 21 issue. "The subject being illustrated is worth your time and attention."
But for a topic as vital as climate change—around which the sometimes relentless flow of headlines can become dizzying—Just and his team decided to do a little bit more to cut through the noise: an issue comprised almost entirely of magazine covers (24 of them, to be exact), each highlighting a different WaPo story on the various ways in which climate change is hurting the planet.
"People now consume so much journalism on a daily basis, and I think part of the job of a magazine is to surprise people and grab their attention by creating journalism that's unexpected," Just tells Folio:.
It's not the first time Just and his team have experimented with unconventional means of engaging their readers. An "alternative storytelling" issue last September featured an original song by Ben Folds, a three-act play and a board game starring Betsy DeVos, among other things. Just says that producing an "all-cover issue" was a continuation of that same idea.
"I think there are a bunch of ways a cover can grab readers' attention," says Just. "Sometimes, it can also work to provoke people. But of course you want to provoke people in a way that's going to cause them to want to learn more—not to simply throw the magazine aside in disgust. And a cover has got to do all this, of course, within the boundaries of being scrupulously accurate. If you look through the all-cover issue, I think you'll see that just about all of these techniques are on display somewhere."
---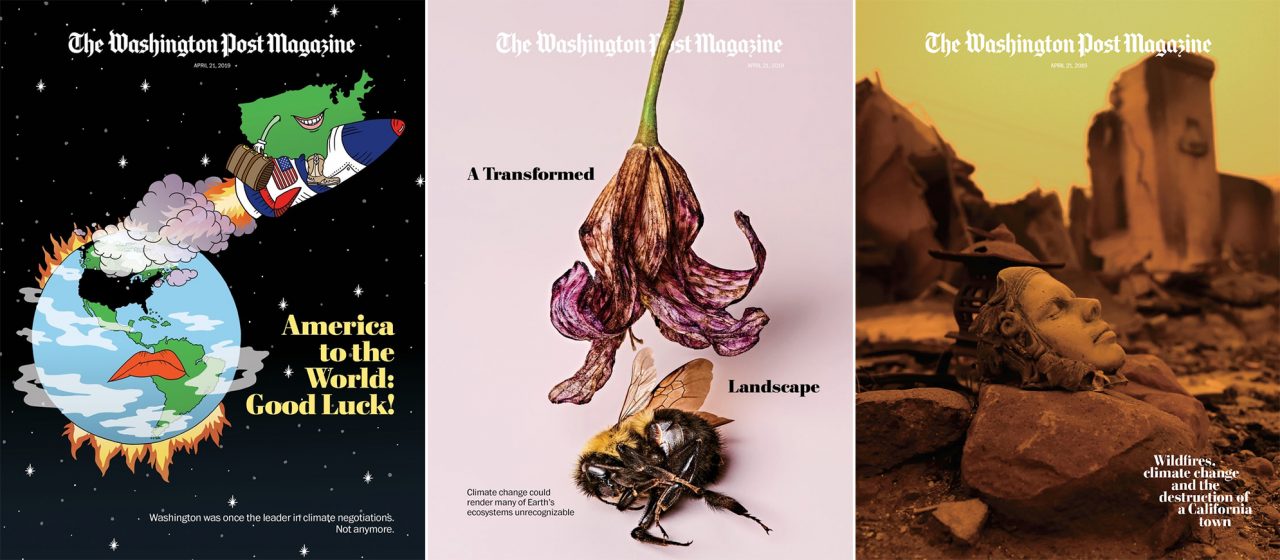 ---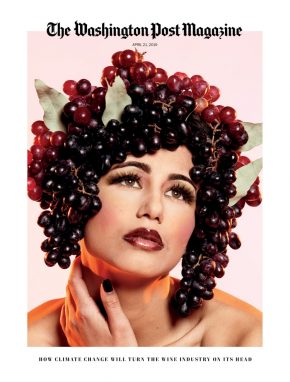 Once the idea for the issue was in place, articles editor Zofia Smardz got to work selecting the 24 stories from the past year of Post reporting to highlight and excerpt on the pages opposite each cover, aiming to provide readers with, in Just's words, "a tour of the consequences of climate change." Subjects range from the expansion of the Sahara desert, to the abrupt disappearance of a species of starfish in the North Pacific, to the number of UNESCO World Heritage sites now at risk due to rising sea levels.
"Because the Post's environmental reporters do such broad and fantastic work, Zofia was able to pick out a group of pieces that really captured just how many different aspects of our lives and our environment are going to be affected by climate change," adds Just.
Next, the arduous task of creating 24 new magazine covers—each distinctive and eye-catching, but also faithful and accurate to the articles they accompanied—fell to design editor Suzette Moyer and art directors Christian Font and Michael Johnson, who solicited concepts and sketches from a list of artists about a month out from the issue's publication.
"It was fun to experiment with different forms of visual storytelling all at once," says Moyer. "With 24 covers, we could select many different styles of both art and photography."
A cover for a story about how climate change has impacted winemaking, designed by art director Elizabeth Hart, involved a shoot with an in-house photographer, a model and two stylists. Another cover, the last in the magazine, is an illustration by eight-year-old artist Kylie Alvarez.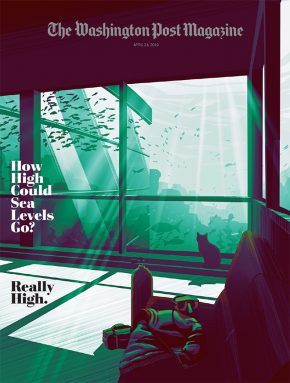 "We wanted diversity in styles," Moyer says of the 13 covers that featured illustrations or photo-illustrations. "We asked for three sketches per story and most artists sent more."
After each concept was approved, Moyer says the designers gave minimal art direction to each illustrator, preferring to maintain each artist's own interpretation of the corresponding article.
"Flipping through this issue should be at some level a scary experience—insofar as you're learning about just how much trouble the Earth is in," says Just. "But I also hope that, if you love magazine covers, then reading this issue was a fun experience, because you're seeing a bunch of magazine artists and editors basically throw every cover approach in our arsenal at you."
While each article excerpt includes a shortened URL to make it easy for print readers to access the full stories online, Just says the project wasn't about driving traffic to WashingtonPost.com, but in line with the Sunday insert's weekly mission of surprising readers and getting them to think differently about the world.
"Climate change is a surpassingly important issue, but it can also be a hard issue for Americans to pay attention to," he adds. "If readers walked away from this issue with even a handful of insights about climate change that they didn't have before, then we succeeded."