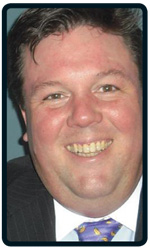 Under his tutelage, digital advertising revenue grew 50 percent for Kiplinger.com in 2010, and their audience demographic has steadily shifted to a more balanced split between female/male readers in recent years.
Kiplinger Personal Finance is determined to move past what Wallace Ryland says they hear all the time, "Oh yeah, my dad gets that."
Ryland, the director of digital business development for Kiplinger, is leading a major 2011 growth initiative in order to gain new audiences and open new revenue channels. Ryland also sees a prime opportunity to expand their audience demographic.
"A couple of years ago, our average reader was 52 years old and 64 percent were male," he says. "There wasn't much opportunity for non-endemic advertisers. Now we're seeing a 54 percent/46 percent male/female split. We're moving in this direction and mobile is one of the ways to do it."
Along with mobile, digital has been another focus area in Kiplinger's mission. "The opportunity is to take what we consider gold-plated content and come up with interesting ways to deliver it. We've taken a lot of stuff in the magazine and packaged it in a way people want to see on the Web. Some of it is just changing the process." In 2010, Kiplinger.com experienced a 50 percent growth in digital advertising revenue.
Ryland said that digital revenue accounts for almost half of magazine advertising revenue in 2010, and he predicts it will be closer to 60 percent of print advertising by the end of this year.
Kiplinger is planning a launch of a mobile product in the second quarter of 2011, and will eventually have offerings on most wireless devices.
Besides the online strategy, Ryland also has plans off the Web. He says, "We need to be talking to people and identifying those 'brand investors'. How do I save money, how I do taxes, that's great conversation…in our Phase Two and Phase Three stages, we want to get in front of schools. That's an offline approach. It's about making personal finance and forecasting cool for someone who's not 54."
According to the Publishers Information Bureau, Kiplinger's Personal Finance had a 9.3 percent increase in ad pages and 3.7 percent growth to $22.1 million in ad revenue in 2010.
VITAL STATS: Kiplinger.com saw a 50 percent growth in digital advertising revenue in 2010.