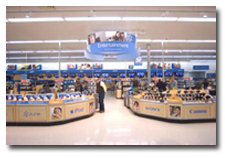 In addition to shifting magazine aisles from the front-end of each store to the Entertainment department in the back, Wal-Mart's "Project Impact" remodeling program for 650 of its stores will also decrease the number of authorized titles that will appear on each aisle, FOLIO: has learned.
According to an industry source, mainline space in "Project Impact" stores will be reduced by 20 feet—about half of what it was previously—which could potentially leave approximately 210 magazines on display. A Wal-Mart spokesperson declined to comment on specific numbers.
Those numbers may vary from store to store, and final counts are still under consideration. Estimates place the number of titles Wal-Mart carries across its chain at 2,000.

'The Entire Industry Should be Concerned'
Distribution Services president Mike Porche said Wal-Mart is in the process of reviewing the list of titles that are carried in "Project Impact" stores and is looking to remove any titles that are deemed "unprofitable and low-selling," but that the company has yet to determine the number of titles that will remain on the aisles.
Titles that remain on display in "Project Impact" stores, according to the industry source, will be given full-face display. "This is good news for the major mainline titles," the source wrote in an email to FOLIO:. "But it's undoubtedly not going to be good for niche titles that have been fighting to hold on their space."
Dennis Porti, president of Curtis Circulation Company, said that niche publishers shouldn't be the only ones worried about the new floor plan. "The entire industry should be concerned because magazines are impulse-driven," he said. "We were fortunate to have a wonderful display at the front-end, not just at checkout, but on the mainline where there was maximum foot traffic and eyeballs."
Porti added that reducing the number of titles in these stores might cause additional issues. "I've seen numerous studies that conclude that any time you reduce, in any significant way, the number of titles on a rack, you're going to lose sales," he said. "The remaining titles never pick up those lost sales."
Although Wal-Mart has not determined which magazine categories will be affected the most, Porti speculated that, as an example, automotive titles will be challenged. "The auto category is incorrectly perceived in the industry as proliferated by many because of the number of subsets within that category," he said. "But if someone is a reader of Ford magazine, and that title is dropped, that doesn't mean that the same reader is going to pick up Car and Driver. There is where we lose sales."
Jay Annis, vice president of single copy sales at the Taunton Press also has concerns. "While our titles survived Wal-Mart's last reduction, we have seen a decline in sales within the stores where titles were eliminated," he told FOLIO:. "But, on the other hand, [Wal-Mart's] entertainment departments are popular and always crowded, so it may be a benefit."
Staying Flexible
The positive side to the new floor plan, said Porti, is that Wal-Mart is implementing it in phases. "Wal-Mart is a retailer that gets extremely quick reads on store sales and because they're doing it in a phased approach, they can possibly readjust their plan if they see that a category is hurting," he said.
Wal-Mart's "Project Impact" program, which was designed based on customer feedback and testing, began in January at 500 existing stores and 150 scheduled to open this year. Magazines will continue to be sold at checkout lanes.