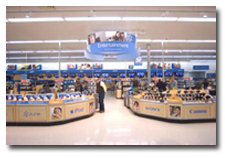 In January, Wal-Mart began a significant remodeling program called "Project Impact" that, among other things, will shift magazines to the back of stores. About 650 stores nationwide—500 existing and 150 scheduled to open this year—are adopting the new floor-plan.
The program will "improve the shopping experience for our customers and bring the new Wal-Mart brand to life," a Wal-Mart spokesperson wrote in an e-mail to FOLIO:.
In each "Project Impact" store, the books and magazines aisle will be moved from the front-end of the store to the Entertainment department in the back where music, movies, electronics and games are sold.
"The design is based on feedback from our customers and successful testing, and features a totally new layout that makes shopping easier," the spokesperson wrote. "The move is good because books and magazines often flow right along into widespread entertainment mediums that work together—look at Twilight and Harry Potter, for example. The aisle is now right near the movies and music area, where customers can pursue selections based on interest and genre, just as they do other entertainment categories."
The spokesperson added that magazines will continue to be sold at checkout lanes and that the size of the new books and magazines aisles in each store will depend on the space and area available just as it did before "Project Impact" began.
The spokesperson declined to provide any projections for magazine sales as a result of the remodeling but pointed out that the Entertainment department has been growing in popularity for the past few years.
Richard Alleger, Rodale's senior vice president of retail, said that some of his company's titles have seen significant improvement in year-over-year sales at Wal-Mart stores. "They are trying to build a better shopping experience with more customer service and hone in on some categories which Wal-Mart management believes they can gain significant market share," he said. "The Entertainment department is one such area. A lot of in-store attention will be brought to this area, which is good for our category. We'll be watching the results closely."