W Magazine and JCK Partner in Survey, Content Swap

Partnership utilizes consumer audiences, b-to-b resources.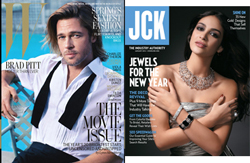 In a strategic move for both publishers, Conde Nast's W Magazine and b-to-b jewelry publication JCK Magazine enter into a content partnership. Beginning with a consumer-facing study of jewelry purchasing trends, W and JCK will swap editorial copy online and in print.
JCK publisher Mark Smelzer tells FOLIO: that W initially broached the possibility of a content partnership. "W is interested in building awareness of their brand with the nation's jewelry retailers. Our audience is a great audience for their publication," says Smelzer. "In a strategic sense, there's an awareness that retailers communicate with manufacturers, and they have influence in a lot of different ways."
The magazines collaborated on a two-part study, fielded in December 2011 and January 2012. In its first post-recession jewelry and watch study, W spearheaded the survey effort, focusing on consumer behavioral patterns in the jewelry market. "It's about trends, trying to get an understanding of what consumers are interested in, desiring, what they're buying-–trying to get a sense of what's important right now in the marketplace," says Smelzer. He says his team also contributed to the survey's content.
The study surveyed 534 respondents with a median age of 43 and household income of $162,000. From that total, 110 respondents claimed a household income [HHI] of over $200k; this group had a median age of 49 and an average HHI of $439,000.
Survey results will be shared at W's February "Fresh Perspectives: The New Jewelry and Watch Consumer" event, in the May edition of JCK and at JCK's Las Vegas LUXURY Jewelry Show in June.
Content Share: New Audiences, New Territories
Kim Caviness, senior VP of content with JCK publisher TMG Custom Media, says W's editors will contribute a blog dubbed "W Fashion Forecast" every other Friday to JCK's daily e-newsletter. The newsletter, now published six times a week, reaches an audience just shy of 12,000.
In turn, JCK will promote its Rockstar jewelry design series through W's properties. The 3.5 minute webisodes, sponsored by Swarovski Gems, chronicle a contest between aspiring designers. Like other design contests such as Project Runway and its accessories counterpart, the competition is judged by industry experts. The videos run on JCKonline.com, and will debut on Swarovski's Facebook page (and to the page's two million plus fans) this week.
"W's going to be getting the word out; they're going to do a write up about the series in the May issue," says Caviness. "Print is at the heart of it, but W is also going to be including links to it on their site. We're still working out the details of where."
The winners of Rockstar will be announced at JCK's Vegas show, along with survey results.
Of the burgeoning collaboration, W's VP and publisher Nina Lawrence says, "With this partnership, we hope to solidify  our authoritative voice in the space, while providing content that JCK readers will enjoy."
JCK shares W's enthusiam. "It's a reciprocal relationship: it gives W entrée into the business-to-business world, and it gives us entrée to the consumer world. We're each using assets that we think make sense in either direction," says Smelzer. "There's no monetary relationship, no sponsorships. Both of us are getting strategic about how to work closely with the other, and how to take advantage of each other's strengths."
JCK has a print circulation of 25,000, with an audience of about 75,000 readers; W's circ is 450,000, and its content reaches an audience of over 1.4 million.
Meet the Author
---