Volatile Markets? Uncertain Economy? Kiplinger's Bus to the Rescue!

Magazine kicks off 52-week 'Your Money Bus' trek.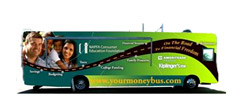 It's another bleak day on Wall Street. The Dow Jones industrials tumbled more than 700 points, slipping below 10,000 for the first time in four years. Analysts are worried the $700 billion bailout package approved by the House and Senate last week might not provide the immediate reprieve consumers had hoped for.
Not to fear. Kiplinger's Personal Finance has announced … the Your Money Bus Tour, a 52-week road trip during which financial advisors will offer free advice to consumers across the country "to show Americans that they can take control of their finances and their future despite volatile markets and uncertain economy."
Oh boy.
The tour, a partnership with the National Association of Personal Financial Advisors Consumer Education Foundation and TD Ameritrade Institutional, kicks off today in Philadelphia with stops planned along the East Coast.
To be fair, at this point any financial magazine branded event is going to seem ill-timed.
Let's just hope the bus doesn't break down.
Meet the Author
---