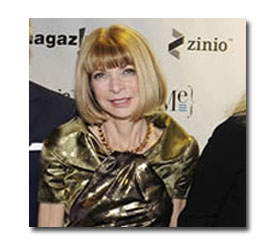 Vogue's high pharaoh of fashion, the prickly Anna Wintour, has received a high honor from the American Society of Magazine Editors. No, it's not a new pair of her signature sunglasses. The group has elected the devilish editrix to its Magazine Editor's Hall of Fame.
Wintour [pictured] officially will be honored at the annual National Magazine Awards ceremony scheduled for April 22 in New York City.
Her election to the Hall is no big shocker, really. She's easily one of the most recognizable magazine editors—if not by name then by appearance—and has steered one of the industry's biggest brands for more than two decades.
Wintour began her fashion career in London in 1970 and launched into magazines six years later at Harper's Bazaar. She later served as a senior editor at New York before transitioning to Vogue in 1983 as creative director. After a stint as editor-in-chief at British Vogue and as editor at HG, Wintour returned to the U.S. brand of Vogue as editor-in-chief in July 1988, where she currently resides, serving as editorial director.
Sure, she's been the target of some criticism and jokes and movies over the years, but that comes with the territory. It's about time ASME recognized Wintour. She joins fellow Hall of Fame inductees including Hugh Hefner, Martha Stewart, Tina Brown and Jann Wenner.