Vogue.com site director Ben Berentson has left the brand to join digital creative agency Code and Theory as senior director.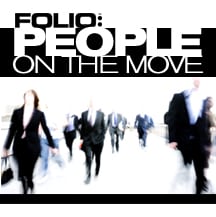 "Ben is joining Code and Theory in a senior director role, focusing on expanding and developing new service offerings to help our clients continue to shift their businesses within the fast-changing world of content creation and content marketing," Mike Treff, managing partner at Code and Theory, told WWD.
Anne Sachs, Condé Nast's executive director of social content and strategy, will serve as Vogue.com's site director in the interim.
Berentson was instrumental in relaunching Vogue Runway and helped build Vogue.com's digital team. Prior to joining Vogue, he held a range of roles at Condé Nast over the course of 11 years.
Incidentally, in 2014, Code and Theory redesigned Vogue.com.
---
Here are the rest of this week's people on the move:
TV Guide Magazine has appointed Jim Halterman west coast bureau chief and Christine Petrillo vice president of brand partnerships, both effective August 1. Most recently, Halterman served as an editor at Xfinity.com and TVFanatic.com, while Petrillo was director of branded entertainment sales at iHeartMedia.
Melissa Bell, vice president for growth at Vox Media, has been promoted to publisher. In this position, Bell will help develop Vox Media's brands and identify opportunities to grow its audience across different platforms, working with the sales, product, and editorial teams.
Meredith Corporation has named Lauren Iannotti executive editor of Rachel Ray Every Day magazine, effective August 3. As executive editor, Iannotti will oversee editorial content and design of the magazine. She joins the company from Condé Nast, where she served as executive editor of Brides.
Jeremy Keehn has joined Bloomberg Businessweek as a features editor. Most recently, Keehn served as a news and business editor at NewYorker.com. Previously, he was a digital director and editor at Harper's Magazine and senior editor at The Walrus.
Esquire has hired Kevin Sintumuang and Jeff Gordinier. Sintumuang will serve as culture and lifestyle director while Gordinier will assume the role of food and drinks editor. Sintumuang joins the brand from The Wall Street Journal, where he was digital director for life and style. Previously, Gordinier was as a food writer and contributor to The New York Times' T Magazine, as well as its book reviews, styles, and travel sections.
Hitomi Sato and Raymond Ho have joined Men's Health as art director and deputy art director, respectively. Both will work with creative director Tom O'Quinn and co-art director Pete Sucheski. Previously, Sako served as senior art director at Condé Nast Traveler, while Ho joins the brand from House Beautiful and Travel + Leisure, where he was the art director.
Sandeep Hulsandra and Bobby Moran have been promoted at Politico. Hulsandra was promoted from senior director of software engineering to VP of engineering. Moran was promoted from VP of business development and strategy of Politico Pro to VP and general manager of Politico Pro. Traci Schweikert has also joined Politico as VP of human resources. She comes from NPR, where she served as senior director of talent acquisition and development.
Business Insider has appointed Anthony Iaffaldano to the newly created position of VP of corporate marketing. Most recently, he served as VP of marketing for digital agency Undertone.
Christine Mitchell will join Government Executive Media Group as its digital general manager. Mitchell comes to the company from Uber, where she served as general manager for the Orlando and Tampa Bay area. In her new role, Mitchell will focus on digital revenue and growing Government Executive's audience. Additionally, Bridget Forbes has been promoted to senior director of digital strategy and operations.
Columbia Journalism Review has named Kyle Pope its next editor and publisher, effective in September. Pope most recently served as editor-in-chief of Straus News, and has also previously served as editor-in-chief of The New York Observer.
Omeda has announced James Capo will join the company as chief revenue officer responsible for sales, marketing, and product development. Capo previously served as VP of digital business development at Access Intelligence.
The Wrap has promoted Tim Molloy and Thom Geier to executive editor and managing editor, respectively. Most recently, Molloy and Geier both served as deputy managing editor. Prior to joining the brand, Molloy worked at the AP and TV Guide Magazine, while Geier served as a senior editor for Entertainment Weekly.
Scott Gold will join Time Inc.'s breakfast site Extra Crispy as bacon critic. Gold is a food and drink writer, and has contributed to Gourmet, Edible Brooklyn, Thrillist, Eater, Tasting Table, and more brands.
O, The Oprah Magazine has hired Kristina McMahon as associate publisher of marketing. She joins the brand from Women's Health, where she served as senior associate publisher, brand innovation, creative services and marketing.
Mashable has named Damon Beres deputy tech editor. He comes from The Huffington Post, where he was senior technology editor.
Aaron Edwards, Adrianne Jeffries, and Amanda Hale have all joined co-founder of The Verge and former Bloomberg digital editor Joshua Topolsky's new media project, The Outline. Previously, Edwards worked at BuzzFeed News, Jeffries served as a managing editor at Vice, and Hale worked for Talking Points Memo.
Mediagazer has hired Matthew Kassel as a part-time editor, following the departure of Patricia Sauthoff. Most recently, Kassel was a staff writer and editor at The New York Observer.