VIVMag Offers E-Commerce Options, Customization Through Advertising

All-digital magazine features interactive ads from Kia, Macy's, Oakley.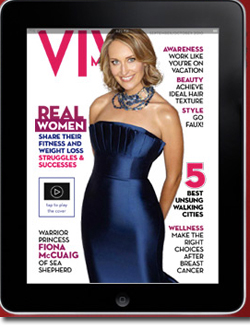 VIVMag, a bi-monthly exclusively digital magazine that debuted on the Zinio platform in August 2006, is bringing their advertisements to the next level.
In an attempt to boost purchasing through digital advertising, VIVMag features ads that offer customization of products and links that lead back to purchasing options. Nicholas Pavach, the vice president of custom publishing and advertising at Zinio, says that with VIVMag, his team is seeing how much is capable within the digital advertising space.
With the Oakley advertisements featured in May/June issue of VIVMag, Pavach says, "You can change the lens, the color, the logo, the arm, customize my entire sunglass and then you can click out to Oakley's website to purchase it." Kia features the same type of customization option, allowing users to change color and style of vehicle within the ad itself.
The Macy's advertisement features an integrated program with direct mail, Pavach says. Embedded in the Macy's ad is a "See the summer catalog", and when pressed, a 60 plus page catalog experience is launched.
VIVMag can be accessed from desktop units, iPads and iPhones; VIVMag also has an iPad app for sale in the App Store. Issue pricing ranges from $18 to $36.
Advertising is sold through spreads only, and pricing is based on readership, costing about $25,000 for a spread per issue.
As for metrics concerning audience engagement with the ads, Pavach says, "We've had about 13 months with the iPad, and there's been some roadblocks from Apple in terms of tracking. We do have a road map as we work with a tracking partner, but individual engagement on a spread isn't happening."
Circulation of VIVMag is 350,000, with a reader demographic focusing of affluent women with an average age of 40 and median household income of $150,000. Gender demographic is split with an 85 percent female, 15 percent male readership.
The average reader spends $25,000 on fashion and accessories a year.
VIVMag is also set to enter the Android market in the upcoming months, as Zinio is now available for download on Droid technology.
Meet the Author
---