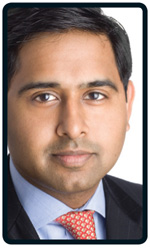 A rising star in the industry took a flyer on once-dominant Ziff Davis and is launching and growing new businesses.
Vivek Shah has a multifaceted mission at Ziff Davis Media. The former Time Inc. executive, who took over as CEO last summer, is working with private-equity firm Great Hill Partners to restore Ziff to its former greatness, following the company's emergence from bankruptcy a few years ago. There was a time, in the eighties with consumer magazines and then again in the early nineties with tech titles, when Ziff Davis was the gold standard for powerful, innovative magazine companies. It started the magazine-industry private-equity boom by being sold in 1994 to the PE firm Forstmann Little & Co. for $1.4 billion.
Those days are gone. Now, oddly, there are two technology publishers with the name Ziff Davis. (The company was broken up in the early 2000s). Working with private equity is more difficult than ever before. When the recession hit most private-equity investments blew up—PE firms were themselves usually the cause: They overburdened otherwise perfectly healthy companies with debt.
Then too, Shah also needs to build his assets and add to them. The only brand the company owns that's recognizable from its heyday is PCMag.com. From that flagship brand, Ziff operates a series of technology-oriented blogs, Web sites and online stories, including ExtremeTech, GearLog, Geek.com, LogicBuy and AppScout. But there has been significant progress, Shah says. "We've grown monthly unique visitors by 67 percent to 11.4 million monthly unique visitors on our content properties. We launched an ad-targeting platform called BuyerBase that allows our clients to deliver highly relevant messages to tech buyers across the Web. We're processing nearly a billion buying signals across 40 million buyers per month. BuyerBase is becoming the lens for tech marketers to buy display advertising across the Web," Shah says.
Also in January, Ziff Davis acquired LogicBuy.com, a provider of tech deals and coupons. "This gives us a commerce engine to marry with our content and data," Shah says. "The ability to deliver content, data and commerce solutions to our clients is our competitive advantage."
VITAL STATS: Ziff Davis has increased Web traffic by 67 percent, to 11.4 million monthly unique visitors.