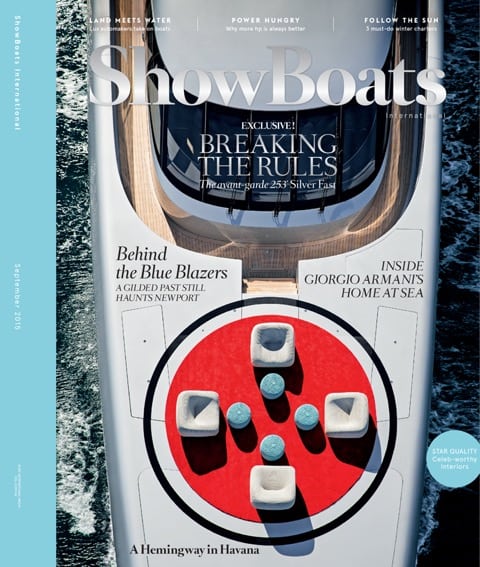 We're going to land in a minute on a narrow strip of land—the oft-ignored magazine spine. But first, bear with me as we go to sea.
It's summertime. The media moguls are aboard their luxury yachts, chattering about various matters of huge import ("Henry, are the cabins sufficiently stocked with nighttime provisions?")—but, let's be honest, certainly not about magazines. And even if they're in publishing, this crowd is unlikely to read a "Modern Magazinist" post.
Regardless, I want to say a few words about a recently reimagined and spectacularly gorgeous book—ShowBoats International—that caters specifically to the sybaritic ways of yachtingfolk.
The titles that compete in this dizzyingly luxe category—SuperYacht World, Power & Motoryacht, Yachts International—cruise rarefied waters. Their demos are to-die-for crazy. If you read ShowBoats ($9.00 retail) or advertise in it, your expectation is that it will smell and feel like hundred-dollar bills.
One thing's for sure. When serving the needs of the super- and mega-yachting lifestyle (there is a difference, I learned), figure on zero tolerance for the second-rate—particularly true when it comes to something like production values. Nothing less than "great" will be good enough. A tough crowd indeed.
Now, those of us who toil in the magazine-making vineyards understand, at least viscerally, that producing a consistently outstanding book is a complex enterprise, in some ways akin to fabricating a billionaire's mega-yacht. But in, ya know, a way more modest sense.
When translated to publishing, it works like this: Even when dealing with pedestrian mags—consumer or B2B—you've got to call foul on any creative- or business-side big who takes his (or her) eye off the small stuff, claiming it to be unworthy of the time, talent, or financial investment required. There is no "small stuff." To the creatives, I always say care so damn much that night sweats are chronic. Otherwise, bad things will inevitably happen to your magazine. Karma.
Unfortunately, one feature magazine-makers are frequently tempted to dismiss is the spine.
In the overall scheme of things, it seems to be such an inconsequential patch of real estate. Apply your logo and issue date and be done with it. Why bother to go beyond?
But the spine presents endless opportunities. It is a vitally important, if underappreciated, space; it can make a real difference in how a book is perceived by readers and advertisers. (Actually, on at least one occasion, a spine was sold to an advertiser: LG Electronics. I don't approve, but I admire.)
Full-circle back, then, to ShowBoats International.
When it was recently redesigned, taking it to a loftier level of luxe (the silky paper, the gorgeous typography, the spectac photography!), the creative team used the occasion to try something novel with the spine.
The initial plan, I was told by Dan Brooks, the magazine's Fort Lauderdale-based art director, was to apply actual adhesive tape, going for the look of a fine, handcrafted book cover or journal.
The idea had originated with the title's London-based owner, Boat International Media, which had earlier redesigned Boats for an audience on the Continent. Given the Brits' generally advanced level of magazine-making skills, it's no surprise that both of these titles turned out to be stunners. They were aiming for the "flare" and "style of a high-end fashion" book, according to a company executive who responded to my questions.
Unfortunately, application of the adhesive along the spine proved impractical. But the folks at QuadGraphics, ShowBoats' U.S. printer, demonstrated another way forward.
Quad knew that it could beautifully mimic an adhesive strip by stamping onto the heavy, uncoated cover stock a textured pattern that wraps cleanly around the spine onto Covers 1 and 4. The faux tape even features a precise vertical score, as one might find on a hardback.
The illusion is so successful that I needed to rub a finger across the feature more than once before I was satisfied that this was in fact printer's magic.
Tony Euden, ShowBoat's chief operating officer, said to me in a memo that "the textured spine is not only pleasant to the touch, but adds luxury value. Rather like the spine of an expensive coffee-table book, it gives the magazine a quality of something you would want to display, collect, and treasure."
Sure, Euden was boastful, but not without justification. The ShowBoats International spine is hugely appealing to the senses. Only the bare basics are printed on it, but it instantly differentiates the magazine not only from its competitors in the superyachting seas, but also from just about anything else on a crowded newsstand.
So, what have we learned here?
First, that the world of superyachts is decidedly not the world that most of us magazine makers occupy. Because… well, the economics of print magazines.
Second, that an experienced printer, working together with a motivated and well-heeled publisher (Boats International recently had an infusion of investor cash), can develop novel solutions.
And finally, that you shouldn't overlook the opportunity that presents itself on the spine of a perfect-bound book. How you choose to leverage that space is a reflection of your magazine's ambitions.
Whether it's with a snippet of info (a mini-TOC, for example), color (a different one for each issue in the cycle), or something more inventive (such as a sentence fragment from a key idea inside), the spine is ideally positioned for a star turn.
If you're overseeing a magazine's visual presentation and you tap the spine for special attention, I'd suggest this could be the one and only context in which being called "narrow-minded" is intended as a compliment.