Virtual Proofing vs. No Proofing

"Printing-to-the-numbers" is enjoying a renaissance.
In 2006, some printers and publishers predicted that in three years time, traditional proofing would be obsolete, and every publisher would be virtual. Fast forward to 2009, when almost all large publishers with multiple titles have gone virtual. In advance of the PRIMEX 2009 summit in February (on the heels of last year's discussion of virtual proofing as a transition technology), production gurus offered projections about whether no proofing, or print to the numbers, could be next in the evolution of more efficient proofs.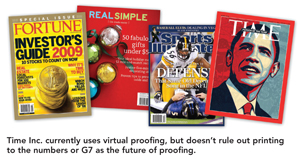 Certainly, virtual proofing on the local, remote and press-side has done well by publishers, saving production time and money. Hearst, which uses a completely virtual K4 workflow for all of its titles to create post-production, press-ready digital files, has eliminated pre-media proofing. "Hearst is currently involved with virtual proofing and we are testing the waters with three printers: Quebecor World, Brown and Quad," says William McGuirl, director of quality assurance at Hearst Magazines. The publisher hasn't incurred huge costs by implementing the technology, says McGuirl, and is offset by less material handling and paper, coupled with expected faster make-readies and color okays on press.
Time Inc., which has also used virtual proofing since 2004, is quite happy with it, says Kin Wah Lam, director of digital technology. Lam doesn't consider virtual proofing to be an interim technology, but a complement to the print by numbers process.
Printing-to-the-Numbers: Less or More? 
No proofing, or printing-to-the-numbers, refers to running a press without any reference proof to guide the operator. Don Hutchinson, principal consultant at HutchColor LLC, explains that there are significant challenges to no proofing, including too few color patches which can be measured to control all possible colors, and measuring a thin strip of patches at the edge of the sheet does not necessarily control how the rest of the sheet is printing. IdeaAlliance's development of the new G7 Proof to Press Process ensures that a few patches on the edge of the sheet read consistently, helping move proofing toward numeric evaluation with tight tolerances. Currently, says Hutchinson, the most efficient press control is bringing press up to standard measured numbers and making subtle color adjustments with reference to digital hard-copy or virtual proof.
Experts consider that no proofing may, down the road, be more time efficient than virtual proofing. With G7, press operators get better bang for their buck, with more control on gray balance and neutral tonality (lightness, darkness and contrast), as opposed to traditional print-to-number methods that focus on ink density and TVI (dot gain) on a prescribed paper stock. "The G7 method of certification makes printing to numbers more precise," says Barry Long, digital systems coordinator at American Press. Over time, G7 can benefit printers with closed-loop color, meaning that there is also less guesswork on what pages will look like on press, and less guesswork on how to handle in-line conflicts, which saves time, says McGuirl.
Despite Time Inc.'s use of virtual proofing, Lam admits that "in theory, the G7 methodology may allow us to print by numbers without any form of proof." Time Inc. is interested in G7 as a printing technology to help tighten existing print tolerances. Lam believes that in the future, G7 has the potential to replace both hard and virtual proofs. However, he says, "current print-by-numbers alone isn't good enough to eliminate any form of hard or virtual proof."
However, as it stands now, both McGuirl and Lam agree that G7 has a higher upfront investment from printers, which includes a greater level of instrumentation, software and training, making it more costly than virtual.
McGuirl says that printers looking to bypass virtual proofing and go straight to print-by-number hasn't, to his knowledge, happened with high-end titles: "I think that until printers prove that they can truly print-to-numbers and have color controls—which may be pretty far down the line—virtual proofing will be the way to go."
Meet the Author
---