VIDEO: Magazines: Hot or Not? FOLIO: on Fox

A televised discussion with Mr. Magazine, WSJ editor on the industry's future.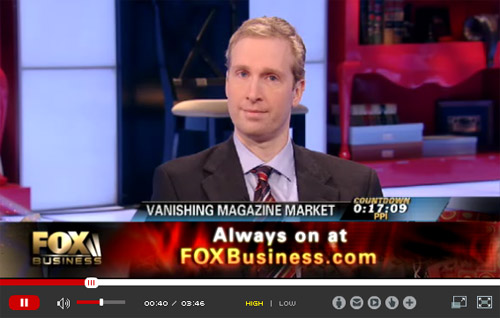 Earlier this week I appeared on the Fox Business Channel's "Money for Breakfast" show along with Samir "Mr. Magazine" Husni and Dave Kansas, a Wall Street Journal editor and president of FiLife.com, to discuss whether the magazine industry is really in as dire straits as recent press suggests.
While Samir blamed publishers for boosting newsstand prices while at the same time selling annual subscriptions at bargain basement prices for much of the recent newsstand woes, the fact is reader habits are changing and the newsstand is going through a much needed self-correction.
To watch the interview, click below. [EDITOR'S NOTE: If you have trouble viewing, click host Alexis Glick's blog post on the segment here, or from the Fox Business video page here and here.]
Meet the Author
---