With all the buzz surrounding video, short-form content has received a lot of the focus over the years. But that doesn't mean publishers should forget about the power of longer-form video content, especially in today's growing market.
According to a recent study published by the IAB, 36 percent of the polled consumers in 24 countries said they watch videos on their smartphones that are 5-minutes or longer in length on a daily or more frequent basis.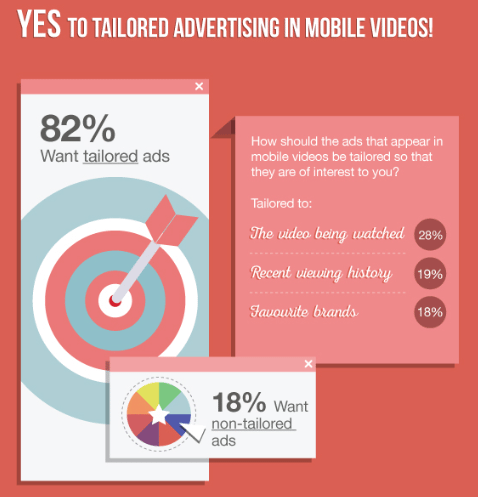 The survey polled more than 200 consumers, who were 16 years or older, owned a smartphone and watched either short or long mobile videos.
It comes as no surprise that these same audiences are also viewing even longer programming, such as movies and full-length TV shows, on their mobile devices. The Chinese viewers were the most inclined to watch films and shows on-the-go.
As a result, the study reported that 22 percent of the polled consumers are watching less TV, with China topping out at a 37 percent decrease in TV consumption. Almost half of the polled smartphone users, 42 percent, are finding their video content via social media.
The survey also touched on one of the most debated and tantalizing topics when it comes to video: advertising. IAB's report stated that 82 percent of consumers want tailored ads. The term "tailored" was broken down into categories such as tailored to: the video being watched (28 percent), recent viewing history (19 percent) and favorite brands (18 percent). The survey did not poll consumers on what types of ads they would prefer, be it pre-roll, brand placement, etc.
While the overall stats. for short- vs. long-term video consumption on smart phones still favored towards the shorter content, longer content is increasing in popularity. Nearly 60 percent of polled consumers said they frequently watch short-form video on their smartphones (vs. 34 percent for long-form.) But, all of the 24 polled countries noted a year-over-year uptick in consumption of long-form video content on smartphones. The writing on the wall, or in this case, smartphone, is that mobile video viewing is certainly not just about short-form content.
It will be interesting to see how smartphones continue to disrupt the TV market, especially as the number of eyeballs watching long-form content on mobile devices increases.