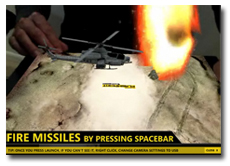 Future US has become the latest publisher to get on the augmented reality bandwagon. The December issues of Official Xbox Magazine and Playstation: The Official Magazine feature an advertising campaign that utilizes the 3-D technology.
The publisher partnered with video game developer Codemasters for the project. When readers who visit GamesRadar.com hold the ads appearing in the print editions up to their Webcam, a special landing page appears featuring a war scene for Codemaster's Operation Flashpoint: Dragon Rising video game. The special Web page also has links the game's Web site, a YouTube video and feeds from Twitter and Facebook.
To producce the augmented reality ads, Future US partnered with technology provideer Papervision3D. Future US declined to say how much it cost to produce the ads or how much Codemasters paid for the compaign.
According to Rachelle Considine, general manager of Future US' Games Advertising Group, turning to augmented reality technology is a "rising trend" among advertisers. "We look forward to working with our games industry partners on additional augmented reality campaigns, demonstrating that print isn't dying—it is reinventing and innovating," she said.
Time Inc.'s InStyle magazine used augmented reality to make some advertisements in its December holiday gift guide issue three dimensional. In June, Bonnier's Popular Science utilized augmented reality firm Metaio's Web application software to create an interactive image (provided by General Electric) featuring wind turbines when readers held the cover of its July issue up to their computer cameras.