Video: FOLIO: Shoots Up Field & Stream

Literally. We fill it full of holes.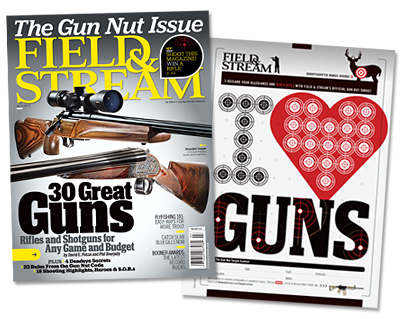 They asked. We delivered.
The cover of the July issue of Field & Stream [pictured right, on the left] reads "Shoot this magazine!" Inside is a pull out that features an "I (Heart) Guns" image [on the right] that is made up of mini targets.
The cover is part of a promotion for a new Outdoor Channel television program based on Gun Nuts, Field & Stream's popular online blog. The show appropriately stars the magazine's two gun editors: David E. Petza (rifles) and Philip Bourjaily (shotguns). According to a New York Times report, whoever takes the most creative photograph of a completed pull-out target will win a Smith & Wesson rifle (Smith & Wesson is a major sponsor of the issue).
We thought the promotion was a pretty cool idea—so much so that executive editor Matt Kinsman and I headed to the local shooting range to see what kind of damage we could inflict. I shot the video. He shot the heck out of the magazine.
See the video below. It isn't for the faint of heart.
Meet the Author
---