Video, Distribution & Syndication at Time Inc.'s 2015 NewFronts

Where the company is poised to go in the future.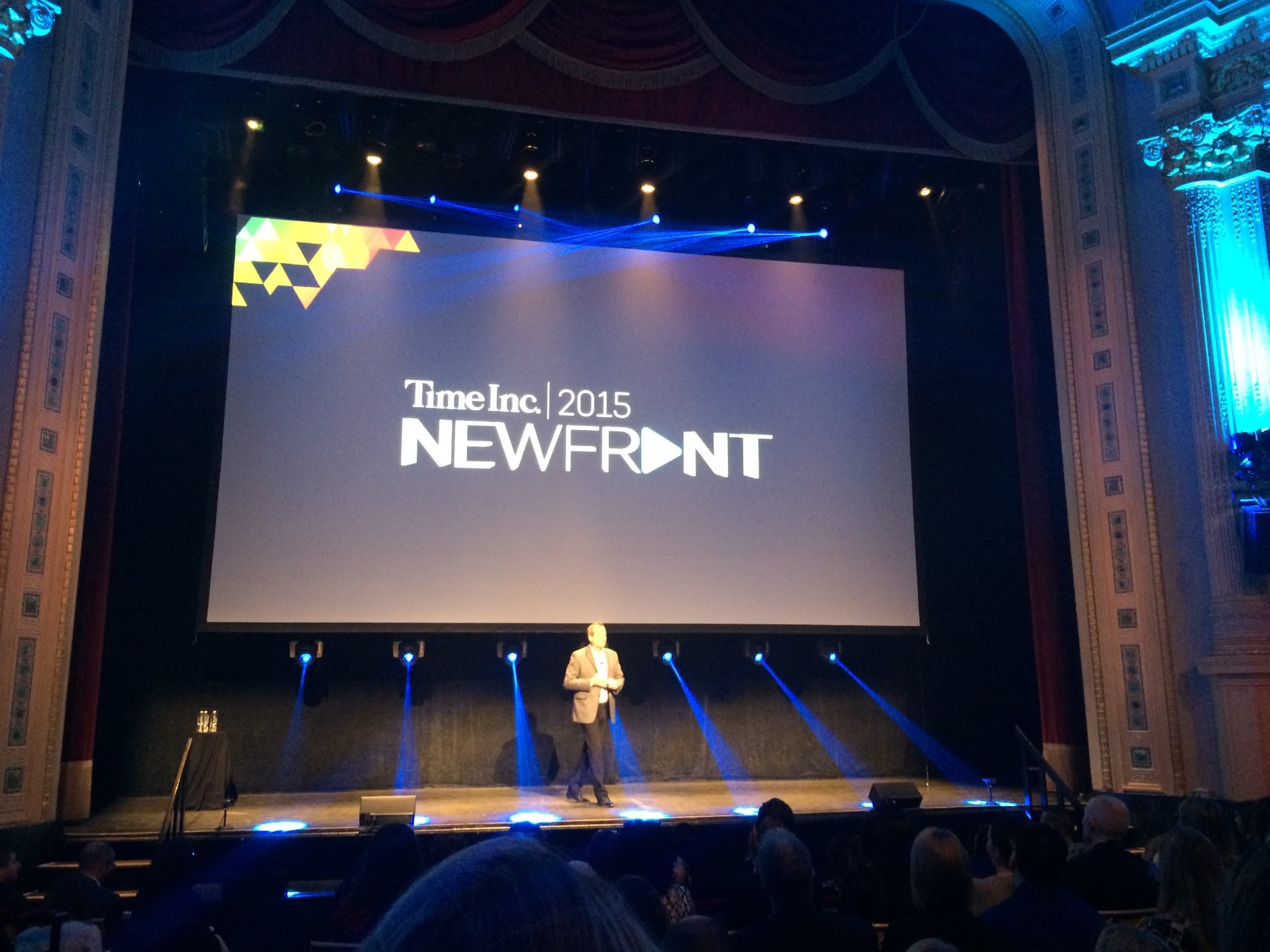 New York – Time Inc.'s executive VP of global advertising, Mark Ford, kicked off the company's 2015 NewFront presentation with a few jokes, a thank you to advertisers and, of course, some company statistics. Video programming, distribution and syndication remain as focal points for the company's future.
After Time Inc.'s firm commitment to video production at the 2014 NewFronts, 2015 was just another ripple in the ongoing digital conversation. Ford laid the groundwork, saying "there's a difference between getting an impression and making one," which was likely directed towards the advertisers in the audience.
The announced statistics were video-heavy, noting that Time Inc. hit a billion video streams last year and unique video viewers are now spending an average of 27 minutes each month with their video content. It comes as no surprise that mobile has grown to become their number one source of audience traffic, either. Video production will aggressively ramp up in the months to come, as they announced programming plans, new syndication deals and "state-of-the-art digital video studios" at their new downtown Manhattan headquarters.
J.R. McCabe, senior VP of video, happily welcomed several partner additions to their Video Distribution Network. Some of the new partners include Nexstar Broadcasting, Cumulus, Vessel and Amazon. This surplus in alliances is quite a feat for Time Inc.'s digital syndication arm, which was just created last year. With 22 Time Inc. brands currently producing original video content, this is a key draw for TV digital offerings. Along with distribution deals, the presentation also laid out programming plans.
Jess Cagle, editorial director for People and Entertainment Weekly, took the stage to unveil 11 sizzle reels as part of their "vertical strategy." The program previews are always key in grabbing advertiser interest, in hopes to get the audience excited about what's on the Time Inc. horizon. Cagle says Time Inc. is "committed to executing these and a lot of other innovative programs, to help you connect with your audiences."
Included were original series targeted at nearly all audiences, ranging from millennials to older adults. Additional verticals were added, with a new focus on the ever-coveted millennial audience, beauty/fashion and lifestyle. One of the newly announced series, "Social Currency: The New Famous," is targeted for the millennial audience, offering "an inside look into the world of today's newest celebrities, the social influencers," says Cagle. Other programs include a partnership between Red Border Films and Time Inc., to produce "A Year in Space," chronicling an astronaut's year-long experiment.
Time Inc. also plans to triple their production capabilities, after they make the move to their new headquarters which will house a brand new production studio. McCabe affirms that they will continue to "create and distribute more video," a revenue driver that has only picked up speed since the 2014 NewFronts.
With a slew of upcoming original video series, digital syndication partners and a new production studio, Time Inc. has certainly positioned themselves at the epicenter of possibility when it comes to reaching their audiences on all platforms. The verdict is TBD on whether their prospective advertisers at today's NewFronts agree.
Meet the Author
---