Vicki Wellington

publisher, Food Network Magazine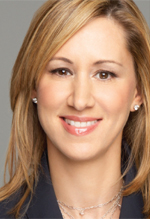 Wellington spearheaded one of the biggest print magazine launches of 2009 in the midst of an economic recession.
Hearst launched Food Network Magazine last year in the midst of a crippling economic recession. Most would have avoided launching a print product during this time, but the team, led by publisher Vicki Wellington, showed that it could be done with a unique idea and some hard work.
"Before we even put a test issue out, we did a lot of research and talked to consumers and viewers about the kind of magazine they wanted," she says. "What we learned was that people are passionate about entertaining, cooking and Food Network's personalities and they wanted the magazine to be an extension of what they loved about the network. And, as it turns out, the timing was just right for the launch as consumers are eating and entertaining more at home and looking for an approachable epicurean magazine."
Food Network Magazine has grown to become the second-largest epicurean magazine on newsstands. After the first test issue in October 2008, the title's initial rate base of 300,000 was achieved just three weeks after going on sale. The company increased Food Network's rate base to 900,000 with the October 2009 issue and again to one million with the Jan/Feb 2010 issue. The rate base will jump yet again to 1.25 million with the upcoming July/August 2010 issue.
When asked what advice she gives to those who want to start a new magazine during this time, Wellington says that the launch of Food Network is a prime example.
"It's great to start with a solid, well-respected brand," she says. "Find an energized editor to interpret that brand who really understands what Food Network and its programming are all about, do lots of research, and create a print product that captures and enhances the spirit of the brand in a unique way. If you come up with an idea that is unique, you have to gauge, as we did, that there's consumer interest. It can't start with the advertising model. We do think it's that simple."
VITAL STATS: Food Network has tripled its rate base since its launch and is currently delivering a circulation of 1.4 million. It has averaged one new subscription per minute since its launch.
BACK TO THE 2010 FOLIO: 40 MAIN PAGE 
Meet the Author
---