Vice Asks Readers to Pay for Subscription to Free Magazine

A crack in the irreverent armor?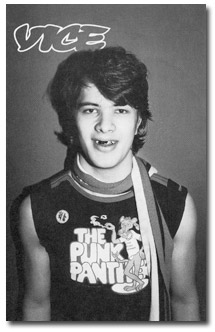 Vice, the brutally irreverent New York-based magazine (which now boasts a slew of international editions, a critically-acclaimed online television site and a record label), has long employed free distribution at downtown boutiques to deliver its influential brand of hipster content to readers. And whatever your feelings are on Vice's acidic tone, there's no arguing that it's one of the prettiest, heaviest free magazines around—a fact the magazine itself touts on its covers.
Which is why it was bit of a shock to see the subscription card in a recent issue asking people to pay for subscriptions.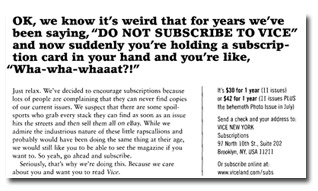 Why now? Vice says the magazine is so pretty, readers take stacks of free copies from these boutiques, subverting the key part of their distribution model.
Could this be first sign of trouble at Vice, a multiplatform, success story that has had as much to do with image as business acumen? Or is this a sly way to tack on revenue at a company whose founders have successfully positioned themselves as professional tastemakers, inking a development deal with MTV?
One of those founders, Gavin McInnes, left the company last month, citing "creative differences."
His exit memo was, of course, brutally irreverent.
Meet the Author
---