Vice Acquires British Fashion Mag i-D

Vice buys style title with an eye toward expanding video.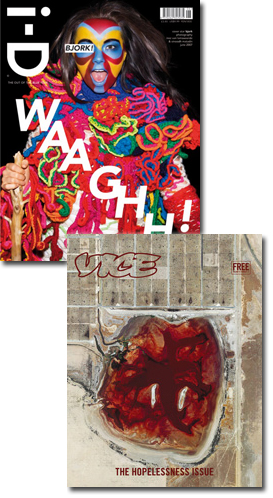 Bold and boastful hipster-targeted media conglomerate Vice is getting into fashion.
While the magazine has been on the edge of culture–including fashion–since inception, it's never been a fashion brand. The acquisition of British style title i-D brings them into that realm.
Terms of the deal were not disclosed.
"Vice is so excited to work with the guys at i-D magazine, one of the only fashion publications in the world we actually respect," says Andrew Creighton, president of Vice, in a release. "We know digital, i-D knows style, and together we're going to give the world the gift of eye-catching, mind-blowing, video-driven fashion content."
i-D founder Terry Jones and his wife, Tricia, will remain with the magazine as minority partners. Current staff will "join forces with Vice's operations and continue to generate content for i-D."
Creation of style-themed video content is expected to be a centerpiece of a new strategy, although increasing i-D's print circulation will also be a point of emphasis, they say.
Vice has already established several successful video outlets, including it's self-titled YouTube channel. The Vice channel currently has 550,000 subscribers and more than 86 million video views.
"There's a huge void in video-driven fashion channels," says Terry Jones in a statement. "This partnership will fill and dominate that void."
Vice's print product has a circulation of 1.1 million across 25 countries, including 160,000 in the U.S. and 89,000 in the U.K., while i-D's current circulation is 90,000, according to respective media kits.
To stay updated on the latest FOLIO: news, become a Facebook fan and follow us on Twitter!
Meet the Author
---