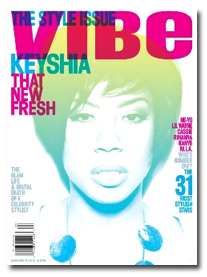 Vibe Media Group today announced a sweeping series of changes it says will position the company for survival and, more importantly, allow the brand to salvage its print magazine without layoffs.
Among the changes: Beginning March 1, staffers will be asked to work four days per week, and have their salaries slashed 10 to 15 percent, according to a Vibe spokesperson.
"While numerous other media companies (Time Inc, Condé Nast, Meredith and Hearst) have closed titles completely and laid off staff to cut costs," the company said. "VMG has taken a smarter and more thoughtful approach to workforce adjustments."
Vibe will cut its guaranteed rate base 25 percent in July to 600,000 copies (down from 800,000). The monthly magazine is also trimming its frequency to 10 times per year.
"We have to run our business, including circulation, more profitably and we have to be smart about it," CEO Steve Aaron said in a statement. "Part of that is eliminating less profitable subscriptions while maintaining our significant circulation leadership in the urban lifestyle space. This will help us achieve our goal of providing an even better brand to our audience and advertising partners." The changes, Aaron said, will "sharpen Vibe's business model for tomorrow's media."
According to the Audit Bureau of Circulations, Vibe's paid and verified circulation slid 8.6 percent during the second half of 2008. Ad pages fell 17.7 percent for the year, according to Publishers Information Bureau figures.
Danyel Smith, Vibe's vice president, editorial director and editor-in-chief, will oversee an editorial department that is shifting its focus to a broader, multiplatform content approach.
The company also plans to launch a-yet-to-be-named "urban celebrity" tabloid in December. That magazine will be published twice-yearly.