Vibe Expands Its Brand Platform into New Music Genre

Hip-hop mag adds electronic dance music to its coverage and product line.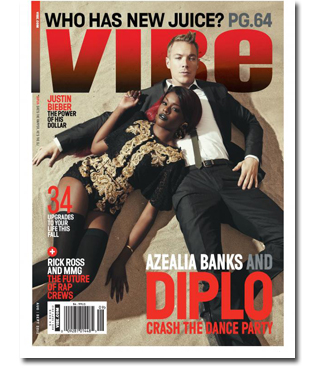 There have been lots of strategic moves among the music magazines lately in an effort to remain vital to their audiences while also making sure their brand platforms keep up with a changing industry and the evolving tastes of music fans. Vibe has been the most recent example of this with its announcement that its hip-hop content focus will be expanded to include electronic dance music.
Online, Vibe has launched a dedicated EDM channel on Vibe.com and has added some EDM-related blogs and websites to its affiliate platform, primarily through a partnership with the Glowfest Digital network of EDM sites. The August/September issue also features Azealia Banks and Diplo—plainly signaling the hip-hop/EDM blend and marking the first time an EDM DJ has appeared on the cover.
"When you look at music, just to be focused on the hip-hop space doesn't make sense," says Ari Horowitz, CEO of Vibe Media. "In order to be true to our existing base and continue to grow the business and leverage the brand's strength, you have to embrace all the different genres that make sense."
For music coverage, that means going where your audience goes—and paying close attention to important artist trends. In this case, Horowitz says much of the overlap is being driven by an increasing number of collaborations between hip-hip and EDM artists. "There's been a lot of collaboration between the artists, they're the ones driving it," he says. "We're following what the artists are doing; we'd be missing out on a big opportunity not to be capturing it."
In January, Vibe and Access Network-owned BlackBook Media merged in a Yucaipa Johnson Fund-initiated deal (the Ron Burkle-backed Yucaipa and Magic Johnson Enterprises had invested in Vibe in early 2011).
Burkle sees more opportunity with EDM and there are plans to acquire more brands in the space and add them to the Vibe portfolio. These will likely take the form of EDM-related events, says Horowitz. "If you're buying media assets, events make sense. The events are what's really cranking now."
Meet the Author
---