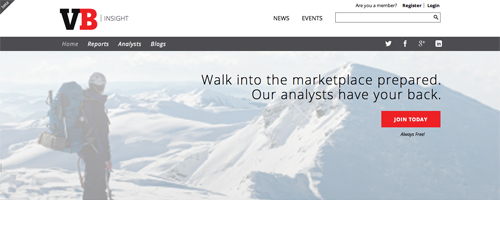 Online business and tech publisher VentureBeat has earmarked a recent $2.6 million equity investment for the development and imminent launch of a commerce-oriented market research platform.
Called VB Insight, the platform is built on an App Store-inspired marketplace model that will offer a range of research reports for sale from VentureBeat analysts as well as outside contributors.
VP of product John Koetsier says the bulk of research will be from outside contributors, who can log into the custom-built platform and create their reports on the spot using a proprietary set of authoring tools.
VentureBeat is currently hand-picking the analysts—approaching independents and smaller firms—who set their own price for each report with guidance from VentureBeat editors who, for now, are also vetting and editing the reports.
Price-points vary anywhere from free to $99 to $2,500, but Koetsier says the focus will be on a high volume of moderately-priced reports. "By the end of this year we hope to have hundreds of analysts and thousands of reports. We see this as the potential for building it as a platform rather than a service," he says.
VentureBeat keeps 30 percent of each sale, says Koetsier.
The on-platform tools allow analysts to build web-native reports, adds Koetsier, which a customer can store in the cloud and access on any device. "And if there's still the necessity to dump a stack of papers on the boss's desk, we'll support that, too," he says.
The launch is a recognition that digital publishers of VentureBeat's scale—the company's various verticals combine for about 7.5 million monthly uniques—must continue to diversify their revenue sources. Otherwise, "you're at the mercy of the pageview," says Koetsier. "And there is a race to the bottom."
The company also produces 7-10 events per year, but Koetsier says the research strategy has the potential to be a third major revenue source.
VB Insight is still in beta and the company hadn't planned on announcing it for another few weeks, but an SEC filing on the funding round triggered an initial report from the Silicon Valley Business Journal. 
Going forward, Koetsier says new features such as ratings and reviews will be added, as well as social curation and sharing tools. "We don't want it to just be a place where someone buys a report and leaves," he says. "We want it to be a space where customers can come in and talk to people like themselves, ask questions of the experts and see rich data relevant to their space."