Variety Sold to Penske Media

Deal reportedly worth $25 million.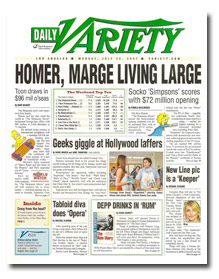 Entertainment news source Variety has been sold by Reed Elsevier to digital media and publishing company Penske Media Corporation (PMC). The deal is estimated to be for about $25 million, the Los Angeles Times reports.
Reed Business Information [RBI], a division of Reed Elsevier, announced in March that was putting Variety up for sale—the announcement followed rumors of a possible sale that circulated in 2010. The company has spent the last three years divesting its U.S. magazine properties. In April 2010, 23 RBI titles (including Building Design + Construction, Graphic Arts Blue Book and Professional Builder, among others) shuttered.
According to Reed Elsevier's 2012 interim results that were released in July, the RBI group represents a profit of 7 percent for the company, with underlying revenue growth falling at 1 percent. The company cites continued good growth in data services and marketing solutions, but RBI showed declines in magazines and services.

"Since 1905, Variety has been the world's premier entertainment news source, and is today one of the most recognized global media brands," chairman and CEO of PMC, Jay Penske, says in a statement. "We are thrilled to welcome Variety and its exceptional team into the PMC organization. As a company we plan to rapidly build upon Variety's foundation, while extending this invaluable brand's presence across the Web, broadcast, mobile and international markets."
Third Point LLC provided debt and equity financing for the transaction. The deal includes Daily Variety, Weekly Variety, Variety.com, conferences and events as well as Variety.com's archives, interactive box office charting, credits database, film and television data business, industry calendar and reviews dating back to 1914.
According to BPA Worldwide, Daily Variety has a total circulation of about 27,957 average unique recipients; Variety Weekly has about 30,009 average unique recipients and Variety.com has about 17,344 average registered users, according to the BPA Worldwide Brand Report for the 6-month period ending March 2012.
PMC, which was founded in 2005, has properties across the Web, television, mobile, social media and print—reaching more than 83 million consumers monthly, according to Comscore. Within its portfolio, PMC owns lifestyle brands in categories like entertainment, sports, news, media, tech, fashion and others, with notable sites including Deadline.com, HollywoodLife.com, and MovieLine.com.
"With RBI's increasing focus on data services, and the sale of our other US print magazines, it makes sense for us to sell the business," says Mark Kelsey, CEO of Reed Business Information, according to a release. "Variety has an incredibly talented team who have successfully innovated and expanded the franchise in industry news and analysis. I have no doubt the business will continue to thrive under PMC."
As of posting time, Reed Elsevier, PMC and Thid Point LLC did not return requests for comments. Check back with FOLIO: for updates.
Stay updated on the latest FOLIO: news, follow us on Facebook & Twitter!
Meet the Author
---