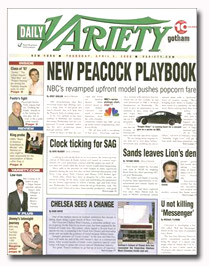 More layoffs have hit Reed Business Information's Variety, as the Hollywood trade undergoes a restructuring of its newsroom. As part of those changes, the magazine said Monday that it is eliminating a number of its full-time reviews staff, primarily in theater and film.
Among the departed are chief film critic Todd McCarthy, chief theater critic David Rooney, film critic Derek Elley and features editor Sharon Swart. Other cuts reportedly came from copy and design.
Variety said it doesn't plan to change the number of reviews it produces.
In terms of promotions, deputy managing editor Kristin Wilder was elevated to managing editor, overseeing production, finances and personnel for its editorial operation. Dana Harris is transitioning to editor of strategic projects, a newly-created position. Other promotions include Paula Taylor named creative director, Ted Johnson and Cynthia Littleton named deputy editors, and Terry Flores was named senior editor.
The newsroom changes were a "continuation" of a restructuring that has seen a number of recent appointments as well as layoffs over the last several months—results of cost-cutting measures. Most recently, Leo Wolinsky took over as editor of Daily Variety and Chris Krewson, who previously served as executive online editor at the Philadelphia Inquirer, was named editor of Variety.com.