Variety.com Taps Behavioral Targeting, Predictive Content Recommendation Platform

Newstogram creates profiles about users' interests, based on their engagement.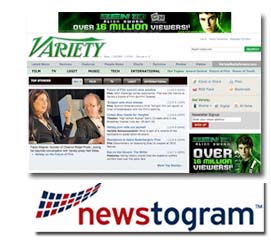 Like a lot of publishers, longtime Hollywood trade magazine Variety wants to know more about the habits and content consumption of its visitors online. To accomplish this, Variety.com adopted a service called Newstogram, a behavioral tracking and recommendation technology that  generates data on user's interests to deliver visitors content, advertisements and e-commerce opportunities tailored specifically to them.
"We're looking for clues about how various segments of our audience—whether that's film, TV, music or other executives—are navigating the site and leveraging our content," says Jennifer Collins, online general manager at Variety. "Given our information-hungry audience is often busy and on-the-go, providing headlines tailored to individuals is a good fit with our service."
Newstogram was developed by tech company DailyMe and launched in December 2009. According to DailyMe founder and COO Eduardo Hauser, Newstogram accomplishes three things: It creates dynamic profiles about users' interests, based on their engagement with a site's content assets; it uses advanced statistical models to predict a user's interests with assets not yet seen; and it uses matching functions to build personal recommendations for each user based on that person's profile.
For Newstogram to work, the publisher installs a tracking code, done by dropping a cookie on each user's browser. From there, Newstogram processes all the site's content either by crawling the site, ingesting a feed or integrating with the partner's content management system.
Newstogram does not collect personal information about users, it says. Other publishers using the service include the Boston Globe, the Dallas Morning News and Florida's Sun-Sentinal.
"Once these steps are in place, Newstogram gains a uniquely granular understanding of our partner's audience and can shortly begin to make very accurate recommendations for each individual visiting a site," Hauser says. "The personal predictive engine can recommend more content, hyper target advertising and connect the audience with commercial items for sale, such as concert tickets, electronics, etc."
In terms of creating and maintaining user profiles, Hauser says Newstogram combines data mining and machine learning techniques. To process the content, the service utilizes semantic analysis through entity extraction, concept mapping and editorial filters and rules.
DailyMe has two revenue models for Newstogram. The first is a licensing payment plan for which payments are based on usage and can range from $500 per month to as much as $25,000 per month. The second is a revenue sharing model that's based on advertising sales related to the data it collects or the sale of e-commerce products using the profile data.
For Variety.com, which erected an online paywall late last year, Collins says she anticipates Newstogram will eventually help increase page views per visit, a "strong indicator" of user engagement. "In combination with our audience research, these types of data points are useful in guiding our product development and site programming," she says.
Meet the Author
---