---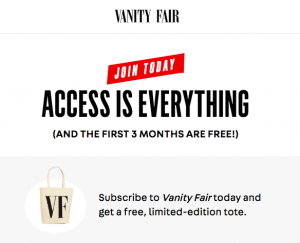 Vanity Fair is the latest magazine to place its online content behind a soft paywall in a bid to drum up more consumer-driven revenue.
The Radhika Jones-led title becomes the third at Condé Nast to institute a metered paywall, following The New Yorker in 2014 and Wired earlier this year. Like Wired, Vanity Fair will allow visitors to read up to four articles for free each month, after which they'll be asked to subscribe for an annual fee of $19.99—the same price for both print-and-digital or digital-only subscriptions.
Continuing a trend carried over from last year, Vanity Fair is staking its value to readers on the critical role it plays in the current news climate.
"At a moment when quality journalism is not a luxury, but a necessity, your commitment will enable us to invest in our reporting, writing, photography, and video, expanding into new areas and onto new platforms, with you, our core reader and viewer, clearly in focus," Jones told readers in a note announcing the change. "We cannot do it without you."
It's also notable that, as Condé Nast aggressively chases scale, it continues to place its preeminent viral content producers behind paywalls. Chief revenue officer Pam Drucker Mann told employees earlier this month that the company again hit records for digital and social audiences in February, and that its digital revenues will equal its print revenues in the second quarter.
Instituting a paywall at VF.com had reportedly been a goal of Jones's predecessor, longtime editor-in-chief Graydon Carter, before he revealed plans to step down last fall after 25 years running the magazine.
Elsewhere at the company, Golf Digest unveiled a new subscription-based instructional video product, Golf Digest All Access ($99-per-year), on April 2.