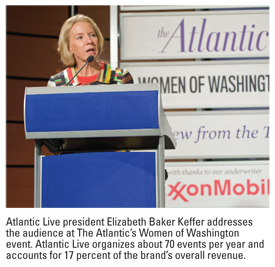 While digital revenues have been growing the fastest for consumer publishers, commanding an increasing amount of attention and resources, events are another solid segment that are attracting interest from consumers and advertisers alike, further diversifying a publisher's product platform.
At The Atlantic, for example, its Atlantic Live group—a dedicated division that's been organizing a range of events for more than a decade—now accounts for 17 percent of The Atlantic's overall revenue, up from 14 percent 3 years ago.
The group produces 70 events per year, with formats ranging from intimate, 50-person thought-leadership forums to 300-person summits and the larger Ideas Forums that originated with the Aspen Ideas event in 2005 and expanded into Washington and New York, attracting a range of attendees from 1,000 to 3,000.
While the formats for the majority of the events Atlantic Live organizes remain on the smaller side—about 80 percent of them range from 50-300 attendees—the business models remain fluid, allowing for different options for participation from sponsors and underwriters.
The smaller events may not individually drive bigger chunks of revenue, but in aggregate they account for a significant portion and also appeal to marketers looking for one-on-one engagement with influential individuals.  A recent "town hall" event partnership with Microsoft that examined the technology sector's influence on job creation held at the Newseum in Washington, D.C., counted Judy Woodruff, Arne Duncan and Senator Lamar Alexander among its speakers and moderators, for example.
The ability to bring in speakers of this caliber into a small setting (as well as the audiences they attract) is a powerful characteristic for sponsors. "Partners are moving towards smaller events so they're not in a sea of thousands of people in some big ballroom," says Elizabeth Baker Keffer, president of Atlantic Live and vice president of The Atlantic. "They're able to facilitate one-on-one communications. And even though the event is about the content that is being shared and discussed, the networking element is very important as well."
Small Events With Big Impact
And while sponsors value the smaller settings, they're still looking for broader audience reach and ROI, which has encouraged Atlantic Live to clone some of its editorially-based summit models into series and extend their value and lifespan through digital channels. "More of our partners are wanting to do these events as series because they're seeing a lot of value in the small events, but they just don't touch as many people," says Baker Keffer. "There is also a focus on how to create content that has an afterlife and/or reaches a larger digital audience. Even though we're creating some of these cool small events, there's a big focus on saving and sharing that content across digital platforms and creating an ongoing asset that can be redeployed."
Event content is editorially-driven and either springs out of an Atlantic story or is created independently, but can then be repurposed back into the magazine, says Baker Keffer. On the business side, the smaller events fit well into the brand's economic model and offer a variety of sales opportunities. "We have a pretty flexible business model," she says. "Our main guidelines are we want to be in front of audiences that fit from an editorial sensibility and a brand perspective, but we also need to find events that fit within our economic structure as well and are supported by advertising or sponsorship fees or both. The larger events tend to have sponsorship fees and media commitments attached to them. The smaller events might have a mix or be all sponsorship— or they could be structured as added value on a larger media spend."
Experiencing Essence
While the term "experiential editorial" may be a buzz phrase, Essence has been bringing its editorial to life for 18 years. The Essence Music Festival, a three-day cultural and musical event held over Independence Day weekend in New Orleans, brought in over 400,000 visitors in 2011. This year's festival, to run from July 6-8, serves several purposes for the brand.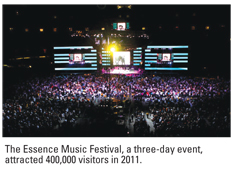 "It allows Essence to deepen and broaden relationships with both the audience and brand, as much of what happens with the magazine comes to life," says Michelle Ebanks, president of Essence Communications Inc. (ECI). "Leaders, innovators, educators, thinkers and celebrities are included in the Festival, which attracts 100,000 people a day. For three nights at the Super Dome, five stages run concurrently. The concert attracts 40,000 people a night."
Heading up the Essence Music Festival is Essence Festivals LLC, a division of Essence Communications.
The Essence Music Festival is only one of the brand's 25 to 30 event offerings throughout the year—in all, the events segment represents about 25 percent of total revenues. Others include Black Women in Music (a luncheon held in Los Angeles the Wednesday before the Grammys); Black Women in Hollywood (an event that takes place the Thursday before the Oscars; this year's celebration was its fifth incarnation); and the Best in Black Beauty Awards, coming up on May 8 in New York City. Essence also hosts a celebration in Washington, D.C. during Congressional Black Caucus Week in September—the Essence Evening of Excellence Awards.
Editorial Franchises Brought to Life
Ebanks expands on the benefits of live events for the brand: "In terms of immediacy, many of these events are actually franchises. Black Women in Hollywood is our cover franchise for the March issue; an extension of that franchise is the event/luncheon itself, as well as the programming on site and in mobile. For example, Essence.com will have a live stream of the red carpet," she says. "It's a way for us to take our key franchises and make them dimensional in a live event space, and it's an opportunity for our partners in these franchises to then extend their marketing message across all those platforms."
The success of Essence's many events can be largely attributed to participating marketers. Lincoln is the presenting sponsor for Black Women in Hollywood and is included in the magazine, at the event, online, in mobile and through video shown online. Coca-Cola has been a sponsor of the Music Festival for the past 17 years, and Walmart is Essence's exclusive retail sponsor.
"Everything we do is more impactful when it's cross-channel," says Ebanks.
Integrated Sales and Marketing
In order to accommodate the many sectors of the Essence brand, there is an integrated sales, marketing and events team that works across all distribution channels. Each channel also has its own specialist team, which complements the integrated sales team.
"We have pillars that we build franchises around, whether it's beauty, entertainment or community, and we work those across all our channels," says Ebanks. "The live event is an important part of these fully integrated, multi-channel branded franchises."