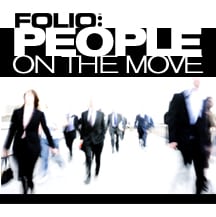 V magazine and VMAN have added many. It was announced in WWD last week that several industry veterans will be joining the magazines.
Valerie Salembier joins as a sales and marketing consultant. Salembier previously held roles as SVP, publisher, and CRO of Town & Country and Harper's Bazaar. She was also SVP and publisher of Esquire.
Nancy Gillen joins V Magazine as managing editor after holding the same role at Marie Claire, Glamour, and Harper's Bazaar.
Paul Cavaco joins the staff as contributing fashion director. Cavaco previously worked at Allure and Harper's Bazaar as creative director.
Joshua Lyon joins the staff as senior editor. Lyon has worked as a contributor to InStyle.com, and worked as an editor at Food Network Magazine, Country Living, and Us Weekly.
Priya Rao and Mia Solkin, both formerly at InStyle, join the team as contributing editor and fashion market director, respectively.
---
Here are the rest of this week's people on the move…
In case you missed it — yesterday, Time Inc. promoted Rich Battista to president and CEO. Former CEO Joe Ripp now serves as executive chairman of Time Inc.'s board of directors. More on the story can be found here.
Additionally, Beth Gorry has joined Time Inc. as SVP of channel marketing. Gorry previous served as VP of producers and brand marketing at Trusted Media Brands.
Hearst Magazines is down one George Kliavkoff. Kliavkoff has left his role as co-president of entertainment and syndication to join VR studio Jaunt as CEO.
Also at Hearst, Karen Deutsch was named executive director of sales for digital business at Cosmopolitan and Seventeen.
Karen Gaudette Brewer joins Remedy Health Media as executive editor of HealthCentral. Previously, she worked as senior editor at allrecipes.com.
Hannah Yi and Lila MacLellan join Quartz as a video journalist, and health, finance, and productivity reporter, respectively. Yi joins Quartz from her role as producer at PBS. MacLellan worked as a freelancer. Before that, she was executive editor of Minyanville.
Terri Smith joins TheStreet as chief marketing officer. Smith joins the title from her role as group associate publisher of marketing at Meredith.
Angela Greiling Keane joins Politico Pro as deputy tech editor, from her role as white house correspondent at Bloomberg.
LittleThings has promoted Gretchen Tibbits to president, in addition to her existing title of COO.
William Peterson has rejoined social-media-focused publisher the Audience as VP of marketing and strategy.
Bloomberg has hired Mark Bergen to the Google beat. Bergan joins the company from Recode.
Alfred Ng joins CNET as a general assignment reporter. He previously served as associate engagement editor at The New York Daily News.