Utne Reader To Shut Down Editorial Offices, Relocate to Ogden Headquarters

UPDATE: Original edit staff chose to not be included in transition.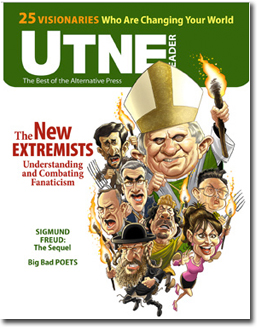 For the magazine industry, the holiday season thus far has been mixed. The first full week of December brings two pieces of sad news (not including the holiday party budget reductions reported earlier this week—the horror, the horror).
Get Married Media is closing down within upcoming weeks, and Utne Reader is relocating to publisher Ogden Publications' headquarters in Topeka, Kansas from Minneapolis, Minnesota. The physical move may not be so bad (I hear the Kansas landscape is beautiful), but it is the staff changes and budget reduction that makes this tough news to report.
According to reports from the StarTribune, Ogden Publications is bringing bi-monthly Utne Reader under its headquarters' roof "so the 30 Ogden employees who work on other magazines can share space and workload". Other titles include Mother Earth News, Motorcycle Classics, Grit and Capper's. The seven staffers currently running Utne have elected to not make the Kansas transition, Utne Reader EIC David Schimke tells FOLIO:. Two more issues will be released before the Minnesota's office closure ensues in March.
Schimke says Ogden Publications may be planning to cut the literary digest's budget in half, down from $500,000 to $250,000. He tells FOLIO:, "I don't think it was an editorial quality decision, it was about the affordability. Having a satellite office in this day and age is hard."
Earlier this year, Utne was ready to embrace the medium founder Eric Utne now claims to be the print magazine's poison. Its Alt Wire service, a socially curated digital magazine built on Sociative Inc.'s R88R Platform, launched in July to a generous amount of buzz from the public. Alt Wire was designed to pick up news a handpicked group of "influencers" shared through Twitter. At the time of launch, web editor David Doody told FOLIO: the majority of content shared through the Alt Wire will be from the alternative press sector, categorized by sites like Mother Jones and The Nation.
The only upshot of this news: Utne Reader is not folding…yet. Schimke says, "There will be a smaller core staff, and will be getting support in editorial operations from other Ogden staff." Unfortunately, a new, thinner staff will most likely not lead to a higher quality of product…and a lower quality product will do nothing to improve sales.
Ogden acquired Utne Reader in June 2006. At time of purchase, Utne had a paid circ of 225,000. The magazine debuted in 1984, and now has a single copy price of $6.99.
Meet the Author
---