Having logged its 11th quarterly loss out of the last 12 quarters in August, magazine publishers have been waiting anxiously to find out how the United States Postal Service might raise its rates for mailers in 2010. Some speculated a 2 percent to 3 percent rate hike could come next May.
In a statement released to various customer groups in mid-October, the USPS put the question to rest, saying it "will not increase prices for market dominant products in calendar year 2010." That includes First Class, Standard Mail, periodicals and single-piece Parcel Post.
"While increasing prices might have generated revenue for the Postal Service in the short term, the long term effect could drive additional mail out of the system," USPS said in the statement.
"This is good news, and I now suggest that those who followed my earlier advice or otherwise budgeted a small rate increase for next year ought to reconsider and eliminate any increase from your budget," Thompson Coburn LLP and postal counsel to American Business Media David Straus wrote in a message to ABM members. "Don't forget that the new USPS 'droop test' [which measures the flexibility of magazines and catalogs] for flats that takes effect in January could cause some publications to experience a significant increase in postal charges if they are too 'droopy.'"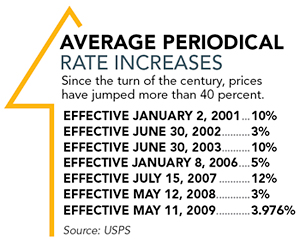 Just two days before the USPS' official announcement, postmaster general and CEO John E. Potter told publishing executives gathered at the Magazine Publishers of America's Innovation Summit in New York City that the USPS had "an extreme prejudice" against making a rate change next year. Potter was interviewed by Hearst Magazines president Cathie Black during an afternoon keynote.
According to Black's introductory remarks, 7 billion magazines were mailed last year, costing roughly $3 billion. Subscription makes up approximately 90 percent of total magazine circulation, she said.
"These problems are a national issue," said Potter. "The American people own the postal service. We need to have conversations with all the stakeholders who care about what happens to the postal service [to determine what to do]."