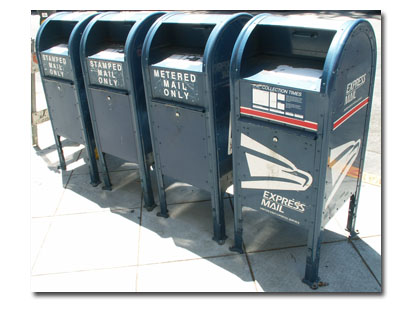 The board of governors of the United States Postal Service on Wednesday approved management's request to move forward with a five-day delivery schedule, which would effectively eliminate delivery and collections on Saturdays. The next step is for the USPS to file a request for an advisory opinion with the Postal Regulatory Commission by March 30.
While the proposal calls for the elimination of delivery and "blue box" collections on Saturdays, certain services will remain in place: Express Mail service will continue seven days a week, Post Offices that are currently open on Saturdays will remain open, P.O. Box accessibility will continue and bulk mail and drop shipments will continue to be accepted at open facilities.
Moving to a five-day delivery cycle will require approval from Congress. If approved, the USPS says the changes will result in approximately $3.1 billion in savings. Facing a severe drop-off in volume, the USPS projects a $238 billion shortfall during the next decade if alterations are not made.
The proposal is one part of a larger initiative called "Delivering the Future," the USPS' action plan for the next decade that includes legislative and regulatory changes to help cut costs and provide the USPS more operational flexibility.
The USPS also created a Web site to provide updated information about the five-day delivery proposal.
Meanwhile, the USPS is also getting ready to implement rate penalties for most flat-shaped mail that fails to meet so-called "deflection standards." Some publishers of tabloid-size and thinner magazines and catalogs will face severe fines when the penalty program kicks in on October 3.