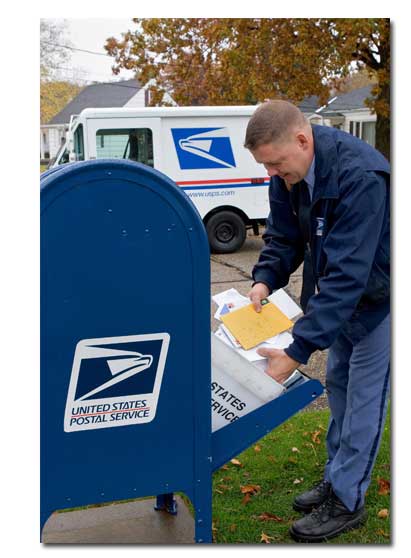 The United States Postal Service is not waiting for Congress to act as it slips deeper into fiscal insolvency. The USPS has announced that it will cut Saturday mail delivery to street addresses, a move that is expected to generate $2 billion in annual savings.
The scheduling change is slated to take affect in August 2013, though packages will continue to be delivered six days a week, and mail addressed to PO Boxes will also continue to be delivered on Saturdays. Additionally, post offices currently open on Saturdays will also remain open for business.
This change, while a long-requested wish of the USPS, comes as a result of last month's decision by the Postal Service Board of Governors to direct postal management to accelerate the restructuring of USPS operations in order to strengthen its finances. The operational plan for the new delivery schedule anticipates a combination of employee reassignment and attrition.
The U.S. Postal Service ended the fiscal 2012 (Oct. 1, 2011 to Sept. 30, 2012) with a record net loss of $15.9 billion and it is estimated that the agency loses about $25 million perday.
"While the change in the delivery schedule announced today is one of the actions needed to restore the financial health of the postal service, legislative change is urgently needed to address matters outside the Postal Service's control," a statement from the USPS says.
Industry Impact
"For weekly magazines especially, this change will likely accelerate the move to digital-only content because delivery standards have already been in decline," Thomas Carpenter, vice president at public policy firm Wexler & Walker and American Business Media's (ABM) chief Washington lobbyist, tells FOLIO:. "With the loss of Saturday, publishers will face even tighter timetables. Bottom-line, what is critical to magazine publishers is that weekend mail processing continues and that service levels improve."
Some view the changes by the USPS as a ploy to force Congress to act. Carpenter, however, stops short of totally endorsing that idea, instead saying this move puts additional pressure on the government and gives Congress about six months to decide if it will really institute meaningful USPS reforms.
"It is clear that USPS is in a dire financial condition and that drastic steps will need to be taken, but cutting Saturday delivery is not a panacea," he says. "(The) USPS has to further reduce its overall size and labor force along with other needed reforms in order to survive."
In 2011, the MPA testified that five-day delivery would require substantial operational changes from some weekly magazines that often want delivery on Friday and Saturday.
"Like Congress, MPA was taken by surprise by today's announcement," says Mary Berner, president and CEO of the MPA, according to a statement. "While we have actively participated in conversations around postal reform, and in particular, five-day delivery, we did not expect the USPS would act unilaterally, without Congressional approval, and we await Washington's reaction and more details."
Carpenter adds that it is unclear whether it is lawful for the USPS to make this change due to a provision that has been in place since 1984 that directs Congress to withhold about $100 million in federal reimbursements for services the USPS provides to the government if it ended six-day delivery. Two members of Congress—Rep. Darrell Issa (R-CA) and Sen. Tom Coburn (R-OK)—have already issued a statement this morning requesting that the government remove that language in the appropriations legislation it intends to pass at the end of March.
"There is likely to be an impact on delivery for our U.S. subscribers," says Bernie Schraml, Bloomberg Businessweek manufacturing and distribution department head. "However, we estimate only a quarter of them will actually see their delivery move from Saturday until Monday due to the various initiatives we have put in place over the past year to accelerate delivery schedules and use alternative delivery agents."
 
In December 2010, Bloomberg Businessweek began its alternate delivery program, which allows its magazine to be delivered with local newspapers—roughly 25 percent of the brand's U.S. circulation in about 20 markets accounts for alternate delivery, something the company is in the process of expanding to second and third tier markets.
SEE ALSO: Bloomberg Businessweek Taking Print Delivery Into Own Hands
"In light of this announcement, we'll revisit our plans to see if it makes sense to accelerate expansion," says Schraml.
Carpenter adds that while reduced service levels could pose obstacles to ABM members, the change, which ABM does not view as a solution to the USPS' problems, would not be immediately detrimental.
"While reduced service levels would pose a real challenge to ABM members, ABM can accept the elimination of Saturday street mail delivery and pickup, as long as weekend mail processing is maintained, as one of several steps that should be considered," he says. "But termination of Saturday delivery should be considered only as a part of a package of solutions that can close the revenue gap in a way that is fair to all stakeholders, including postal employees, mailers, and the American people."
Tell us your thoughts about this change in the comments. Will it impact your business?