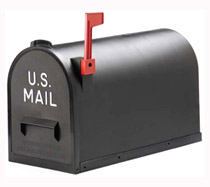 The U.S. Postal Service has a fiscal year-to-date net loss of $1.13 billion, including a greater-than-expected loss for the third quarter, at $1.1 billion. The USPS says it expects a year-end net loss. That could spell more bad news for the magazine industry.
"The next rate increase will most likely be the maximum under the law," ABM Washington Counsel David Straus tells FOLIO:. "The way the CPI [Consumer Price Index] is going, you could be looking at periodicals rates going up 5 or 6 percent for some publications—about double the 2.9 percent increase we saw in May."
The next rate increase, according to Straus, "almost certainly" will be May 2009.
For the third quarter 2008, the Postal Service reported operating revenue at $17.9 billion, down 2.4 percent from the same period in 2007. Operating expenses were $19 billion, an increase of 1 percent from the third quarter last year. Mail volume dropped 5.5 percent during the quarter, reaching 48.5 billion pieces.
According to Postmaster General John Potter, mail volume may not return to previous levels when the economy rebounds. "This requires that we significantly accelerate process improvements and the realignment of resources in order to achieve long-term financial success," he said in a statement. "Failure to do so will threaten our ability to meet our mission of providing universal service at affordable prices."
Under the Postal Accountability and Enhancement Act, the Postal Service may "bank" the difference between the CPI cap and the implemented price changes and has extensive flexibility to vary rates within classes as long as the class average is CPI-limited. However, Straus says there will be pressure on the Postal Service about whether the price cap can be pierced to cover attributable costs.
"If you have a price cap, you do what you can with costs but service will be affected," he says. "The MPA and ABM are working with the Postal Service to restrain periodical costs, but it will be tough."
Intelligent Mail Barcode Update
At yesterday's Mailers Technical Advisory Committee meeting, Postmaster General Potter reportedly announced, despite a press release saying that no pricing decisions have been reached, that there will not be a discount for mail sent using the IMB, according to Straus. The IMB would require an 11-digit "intelligent" barcode on all automation-rate first-class mail, periodicals, standard mail, and bound printer matter flat-size pieces.
"This was the number one topic of discussion" at the meeting, Straus says. "Mailers are very upset and I think are close to rebellion."