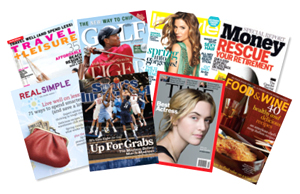 I received my first edition of "mine" yesterday. It's a print and digital customized magazine concept being tested by Time Inc.
I went for the print edition because, logistically, I was more curious
how that would pan out. Plus, Time Inc. said they were only going to
print 31,000 copies—I wanted in on the print action.
Keeping in mind this is a test project, I still couldn't help
feeling constrained by the selection, especially when they say each
issue will "include stories tailored specifically to [my] interests."
Magazine choices include Travel + Leisure, Golf, In Style, Money, Real
Simple, Sports Illustrated, Time, and Food & Wine.
I picked Real Simple, Food & Wine, In Style, Sports Illustrated,
and Golf. My "mine" had 1-4 features from each magazine for a total of 36
pages including covers.
Content is pulled from 2007 to 2009—a
range that could prove tricky if time-sensitive material is featured.
An article about soccer from my SI selection has a "breaking news"
infographic that points readers to Euro 2008 online coverage. And a
profile of LPGA golfer Natalie Gulbis is a follow-on from her 2007
Evian Masters win.
This might be asking too much: I like sports, yet if I pick Sports
Illustrated, I can't then request specific topics from within that
brand. Same goes for the rest. The editors from each publication are
apparently doing that for me based on their own vetting process. Given
the breadth of coverage of these publications offer within their
mass-market verticals, the content selection process is still casting a
pretty wide net.
The entire issue is sponsored by Lexus and playing into the whole
custom thing, ad copy is tailored to where I live—New Haven,
Connecticut—and to the content I chose: "We know how much you love sports,
and with our available voice-activated Navigation System, it's easy to
locate the best memorabilia dealers near New Haven."
The custom copy in the ads is a tinted version of the standard copy.
So, in the line above, "sports," "memorabilia dealers," and "New Haven"
are a different shade. Reading the ad copy is like listening to a
pre-recorded audio message that changes tone slightly when new options
are offered.
Here's a look: