USA Today Set to Launch Quarterly Lifestyle Mag

Magazine will leverage the newspaper's 2.3 million circ.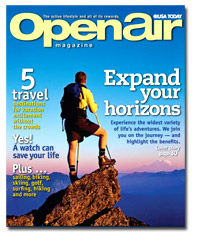 USA Today announced today that it is launching a quarterly active lifestyle magazine called Open Air. The first issue, with 68 editorial and 27 advertising pages, will come out on March 7, 2008 with the newspaper's Friday edition. Open Air will offer advertisers access to USA Today's circulation of 2.3 million, the highest of any newspaper, and its 3.9 million readers.
The magazine will be a joint editorial effort between the staff of USA Today and USA Weekend magazine. Content will include stories on outdoor activities, travel features and articles on the equipment, nutrition and psychological benefits related to a healthy lifestyle. According to a news release, Open Air will target the "busy, well-informed, affluent consumer" with a "new look at the possibilities for adventure that surround us each day."
Additional dates for 2008 are May 2, September 5, and November 7. The accompanying Web site will launch ahead of the magazine in February.
Meet the Author
---