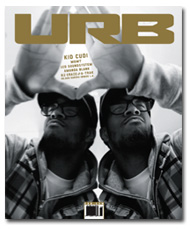 After nearly two decades in print, Los Angeles-based urban music and lifestyle magazine URB has suspended publication of its print edition in order to "focus on our digital adventures." The magazine's publishers hope to relaunch in print sometime next year.
The Summer 2009 (issue 158) will be its last. "To simply blame the prevailing conditions on the financial markets is only partially accurate," co-founder and publisher Raymond Roker wrote in a note posted to the magazine's Web site. "We're experiencing an incredible and sweeping shift in consumption and media habits worldwide, especially in the magazine market. It's affecting giant publishers like Condé Nast as well as niche publishers like us."
Beginning immediately, URB will produce digital editions with the first, issue 159, set to go live this month, Roker wrote. URB.com also is expected to relaunch in the next few weeks.
"We also have several new initiatives in the works, from events, custom publishing, our expanding interactive and social media network," he wrote. "We see this new economy as an opportunity to diversify and return to some of the original inspiration that started us off almost two decades ago."
Launched in 1990, URB covers music, style, art, youth culture, media, politics, technology and nightlife topics. The magazine is produced by NativeSon Media.