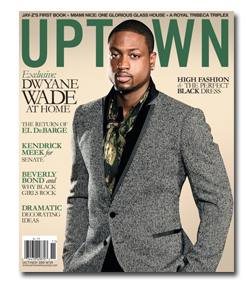 Luxury lifestyle magazine Uptown is expanding its reach into the African American market. The magazine is expected to announce today that it is increasing its rate base from 200,000 to 225,000. In addition, Uptown will publish eight times a year starting March, up from its current bimonthly frequency.
"On the heels of a successful 2010, Uptown Magazine continues its commitment to continued expansion in 2011," Uptown Media co-CEO Len Burnett tells FOLIO:. "Our increased frequency gives our national and local partners additional access to this underserved and hard-to-reach audience. As the only media company serving this market, we are excited to expand our footprint on both the national and local levels."
Launched in 2004, Uptown publishes a national edition as well as regional editions in Atlanta, Charlotte, Chicago, Detroit, New York City, Philadelphia and Washington DC. With equity partner InterMedia Partners, Uptown Media acquired Vibe magazine in August 2009.