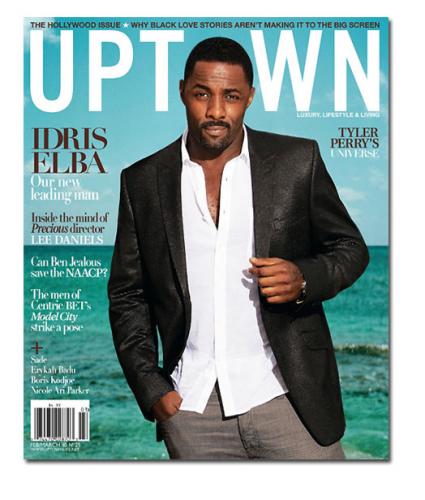 [Editor's Note: A previous version of this story indicated that
Uptown closed editions in Miami, Dallas and Houston. That was not
correct. Only Uptown's national edition serves those markets.]
Uptown Media Group will add two more regional editions to its flagship Uptown magazine roster, with plans to enter the Philadelphia and Detroit markets effective with June/July 2010 issues.
In addition to the two new editions, 200,000-circ. Uptown has a national edition, plus regional editions in New York, Atlanta, Washington D.C., Chicago, Los Angeles and Charlotte, North Carolina.
"We've basically shifted some of the bulk away from markets such as Miami, Dallas and Houston that were outside of our focus and included these new markets," Uptown founder/CEO Len Burnett tells sister FOLIO: title Audience Development. "Affluent audiences in Philly and Detroit are underserved and Uptown is looking to fill that void. These are two major markets that have a healthy amount of affluent African-Americans. And for Detroit, it's particularly exciting because it is my hometown and, although the auto industry has taken its toll, there's still a large number of African-Americans doing well in that city."
Uptown began expanding its reach after receiving a reported $6 million investment from InterMedia Partners in late 2007. Revenues soared 80 percent the following year and in February 2009, Uptown went from a quarterly to a bi-monthly, increasing its rate base from 125,000 to 200,000.
According to Burnett, Uptown currently runs on a hybrid model in which 35 percent of its copies are sent to households with a total income of $75,000+ in smaller cities such as Charlotte and $125,000+ in larger cities such as New York, 30 percent are sold via subscriptions and 15 percent are sold on the newsstand. The rest are sent to restaurants, lounges, hotels and other venues where the targeted audience may socialize.
The title also has a companion Daily Candy-like Web site, UptownLife.net, which currently has 100,000 unique visitors per month, and a bi-weekly e-newsletter that is read by approximately 30,000 subscribers per edition.
Event, Mobile Growth
One of the most successful avenues for growth for Uptown, according to Burnett, is in the area of events. "We do well over 50-60 events each year ranging from small dinners to huge parties for over 700 people," he says. "Because we only have a rate base of 200,000, events are great way for consumers to discover us. It also gives us the opportunity to work closely with our advertisers."
Uptown will next turn to mobile marketing to increase brand awareness. The title is launching a group of custom iPhone apps with the first being a restaurant guide. Uptown plans to work with its advertisers to build apps that target the audiences they want to reach. "It's a one-stop solution that we're offering our advertisers that will allow them to market to affluent African-Americans through our brands," Burnett said. "For example, if a real estate company that advertises with us wants to reach our audience, we can create an Uptown-branded real estate app for them."
And although there's nothing concrete just yet, Burnett also has plans to create an Uptown-branded travel TV show. "Travel is a big part of our editorial product," he says. "And because the tourism boards over the recent months and through the last year have taken on a heightened sense of urgency in reaching out to readers like ours, we believe that it would be a great opportunity to provide a show that speaks to our travel-savvy audience."