Is Uptown Buying Vibe?

Lifestyle publisher said to be eyeing deal to acquire folded hip-hop title.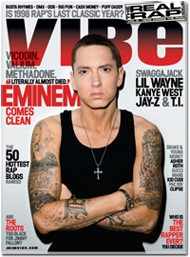 UPDATE: Uptown, InterMedia Acquire Vibe
It appears that legendary jazz and pop music producer Quincy Jones might not be the only party interested in acquiring the assets of folded Vibe magazine.
Uptown Media—a New York City-based magazine publisher targeting affluent African Americans with editions in New York, Chicago, Atlanta and Washington D.C.—is said to be nearing a deal to acquire the Vibe brand. According to an Ad Age report citing unnamed sources, Uptown is negotiating with Vibe's major debt holder, CapitalSource.
When contacted by FOLIO:, Uptown co-CEO Len Burnett declined to confirm or deny the report. Burnett helped launch Vibe and later served as publisher of the Vibe Media Group.
Vibe was acquired by private equity firm the Wicks Group in 2006 from Vibe Ventures for $35 million—including financing from CapitalSource. According to the report, CapitalSource has been entertaining offers for Vibe in hopes of recouping some of that unrecovered debt.
In June, shortly after Vibe abruptly folded, Quincy Jones, who launched the magazine, told EbonyJet.com he was not pleased with the way the Wicks Group handled the Vibe brand and that he wants the magazine back.
While the possibility of Uptown acquiring Vibe's assets could "make sense," as one media observer told FOLIO:, Michael Alcamo, president of investment bank M.C. Alcamo & Co., said CapitalSource would most likely retain "virtually all of the equity" and hire a publishing group, like Uptown, to serve as a management entity and revive the business.
"I would not expect that the operating group would acquire it outright because, right now, the 'fair value' would be nearly zero," Alcamo said. "The management group might, however, receive an option to acquire the business for the value of the loan, or about $35 million."
Spokespeople for Wicks and CapitalSource could not be immediately reached for comment.
Meet the Author
---