Uptown Launches Spin-Off: Uptown Professional

Quarterly mag will be polybagged with Uptown for first issue.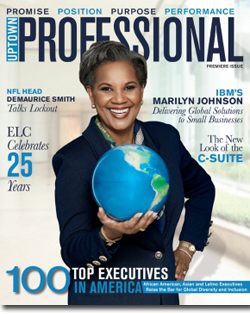 Luxury lifestyle magazine Uptown is launching Uptown Professional, a quarterly spin-off targeted to the "urban professional." The first issue will be polybagged with 100,000 copies of Uptown's March issue and will be available on newsstands, in bookstores and distributed through corporate employee affinity and network groups. Going forward, the magazine will be distributed separately from Uptown (while there is some overlap, Uptown Professional has its own dedicated marketing, sales and editorial staffs, according to publisher Robert Ingram).
The launch issue has more than 30 ad pages and features profiles of the top 100 African American, Latino and Asian business executives in the U.S. The full list is available at www.uptownpromag.com.
Uptown Professional will be a "seven-figure business" across print advertising, a weekly newsletter, the Web site, and an event scheduled for Fall 2011 around employee network affinity groups, according to Uptown Media CEO Len Burnett.  
For its June issue, Uptown Professional plans to feature the "Top Companies for Diversity and Inclusion." That list will be announced in mid-to-late March.
"The key in this environment is that you have something that's relevant and new and something that's tied to initiatives that corporations, particularly in the C-suite, see as intergal to their businesses," say Ingram. "A publication that goes to a multi-ethnic or urban group is something that's attractive to many corporations."  
Uptown is expanding its reach into the African American market. In November, the magazine said it was increasing its rate base from 200,000 to 225,000 and upping its frequency from bimonthly to 8x in March 2011.
Launched in 2004, Uptown publishes a national edition as well as regional editions in Atlanta, Charlotte, Chicago, Detroit, New York City, Philadelphia and Washington DC. With equity partner InterMedia Partners, Uptown Media acquired Vibe magazine in August 2009.
Meet the Author
---