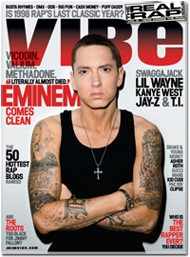 Uptown Media Group, in a partnership with private equity firm InterMedia Partners and Blackrock Digital, said today they have purchased the assets of Vibe and its associated Web site, Vibe.com.
Financial terms of the deal were not disclosed.
The partners said they plan to relaunch Vibe.com, calling the site the "centerpiece of the new venture." The print edition of Vibe will relaunch with a November/December issue and will publish quarterly in 2010.
Moving forward, Vibe will be led by original Vibe team members Robert Miller and Len Burnett, who also serves as co-CEO of Uptown; Uptown co-founder Brett Wright; and Blackrock Digital partners Chris Smith and Parker McNaughton.
Another priority, the group said, is to develop the Vibe Lifestyle Network of sites along with the Uptown Media Network. This initiative will be led by Blackrock Digital's Smith and McNaughton. Blackrock formerly handled digital sales for Vibe.com.
According to Burnett, bringing Vibe and Uptown together will "allow us to develop an array of integrated digital opportunities and events that reach the dynamic urban consumer."
InterMedia Partners reportedly injected $6 million into Uptown Media in late 2007.