Uptown Ups Circ, Frequency

Magazine for affluent blacks to launch sixth regional edition.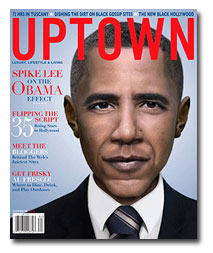 Uptown, the luxury lifestyle magazine targeting affluent African Americans, is set to increase its circulation, frequency and launch a regional edition in the Charlotte, North Carolina market in 2009.
Beginning in February, the quarterly magazine will increase its frequency to bimonthly, and up its rate base from 125,000 to 200,000.
The company will also roll out a Charlotte edition of Uptown early next year.
Len Burnett, the magazine's founder and CEO, said Charlotte has a strong population of affluent African Americans—some 40,000—making it a "prototype for the Uptown sense of style and substance."
Uptown publishes local editions in New York, Chicago, Atlanta and Washington, D.C.
While both luxury and regional publishers have felt the grim effects of the recession, Uptown's revenue, Burnett said, increased 80 percent from 2007 to 2008.
Meet the Author
---