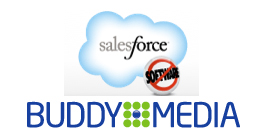 After the news broke via AllThingsD last week, Salesforce.com officially announces it will acquire Buddy Media for approximately $689 million, paid in cash and salesforce.com equity. According to Salesforce's website, the deal is expected to close during the company's third fiscal quarter ending October 31, 2012.
While AllThingsD had originally pegged the deal at $800 million (while other sources predicted a higher price tag), the social media marketing company will be sold for $467 million in cash, $184 million in salesforce.com common stock and $38 million in vested salesforce.com options and restricted stock units.
Buddy Media will be combined with Salesforce's other recently purchased property, social media "listening platform" Radian6 to "deliver the first comprehensive Marketing Cloud that will allow customers to listen, engage, gain insight, publish, advertise and measure social marketing programs."
The deal is expected to bring in an additional $20 to $25 million in revenue for Salesforce during fiscal year 2013. 
Like Salesforce, Buddy Media has made a name for itself throughout the magazine industry. Prevention used Buddy's services to add sweepstakes and newsletter registration to its Facebook page, while Hearst partnered with the company to create branded social media applications ("sapplets") for several of its titles.