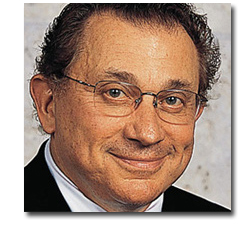 An unusual suitor has stepped forward to revive shuttered book industry magazine Kirkus Reviews. Nielsen Business Media has sold the magazine to Herb Simon, chairman emeritus of the Simon Property Group and who last year took sole ownership of the Indiana Pacers basketball team.
Financial terms of the deal were not disclosed.
According to Simon [pictured], who said he was a longtime Kirkus subscriber, "no one can really see the future of publishing" with the growth of e-books and e-reading devices. "At a time when even the definition of a book is changing, my love of books makes me want to be part of the solution for the book publishing industry," he said in a statement.
Under Simon, Kirkus Reviews and its associated businesses will operate as Kirkus Media. The company will be led by Marc Winkelman, who also serves as CEO of Calendar Holdings. Kirkus Media will operate as an affiliate of Calendar Holdings. Simon and Winkelman jointly own Tecolote Books, an independent bookstore in Montecito, California.
In terms of Kirkus' business model moving forward, Winkelman said Kirkus will publish in print every two weeks and that he is looking to grow its circulation. He expects to have a more specific plan in place within 60 days. "We'll continue in print, look to do more with the Kirkus Web site and we're exploring mobile," he said.
"During our meetings with Marc and his team at Calendar Holdings, it became immediately clear that they had a genuine interest in the Kirkus brand," Kirkus managing editor and nonfiction editor Eric Liebetrau told FOLIO:. "They understood its important place in the book-publishing industry, and more importantly, they see its potential amid the industry's rapidly changing landscape."
Launched in 1933, Kirkus was shut down by Nielsen in December along with nearly 130-year-old newspaper industry magazine Editor & Publisher. That title also found an unusual suitor; it was acquired last month by Duncan McIntosh Co. Inc., an Irvine, California-based boating magazine publisher.
[Image via Sports Business Daily]