United Picks New Publisher for Hemispheres

Ink Publishing to relaunch airlines' in-flight magazine.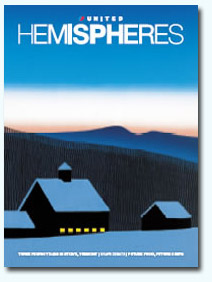 United Airlines Monday said it has selected London-based custom publisher Ink Publishing to produce its in-flight magazine, Hemispheres. A relaunch is slated for March 2009.
"With Ink's extensive experience and international presence, we see a key opportunity to take Hemispheres to a new level—both creatively, for the benefit of our loyal readers, and commercially as we align United brand with other companies interested in reaching our customers," United senior vice president and chief marketing and customer officer Dennis Cary said in a statement.
United's agreement with Ink ends its deal with the magazine's previous publisher, Greensboro, North Carolina-based Pace Communications. Last week, Minneapolis-based custom publisher MSP Communications said it was awarded the contract to publish Delta's Sky magazine, a title Pace had published for more than a decade.
A Pace spokesperson could not be immediately reached for comment.
Through the first nine months this year, Hemispheres saw ad pages fall 21.5 percent, according to Publishers Information Bureau figures. In 2007, Hemispheres reported approximately $62 million in ad revenue, making it the biggest in-flight magazine in terms of ad revenue.
This fall, Mediamark Research said Hemispheres has the "most affluent" readers. Ink Publishing also has offices in New York and Atlanta.
Pace took home 10 FOLIO: Awards this year including five gold Ozzies. The publiusher won a gold Eddie in the Best Custom, Editorial (six times per year) for the September 2007 issue of Hemispheres.
Meet the Author
---