Unexpected Delivery: AARP Member Gets 1,000 Copies of Magazine

Miscoding to blame for circulation blunder.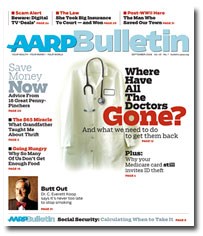 As the saying goes: Ask and ye shall receive.
This, however, was a bit extreme.
When AARP member Tony Thomas first noticed he wasn't receiving his copies of AARP Bulletin, the organization's bimonthly news publication, he called to complain. That was 2007. After 18 months, and five phone calls, he still wasn't getting the magazine.
That changed December 6 when the Post Office delivered not one but 1,000 copies of the January/February issue. "I called [AARP] back and said, 'Thanks for the copy. I received it. What do you want me to do with the other 999,'" Thomas told the Las Vegas Sun newspaper.
Obviously, someone in circulation goofed. "A mistake occurred when the status of the member's account was being updated–there is a code (999) that reflects Lifetime Member status and that was inadvertently entered into the number of copies to be delivered instead of the code field," a spokesperson wrote in an e-mail to FOLIO:.
This time, AARP followed up promptly. The organization dispatched a staffer from its Nevada office to Thomas' home to retrieve the 999 extra copies. They were to be distributed to various area senior centers and healthcare facilities.
"Anybody can make a mistake," Thomas said, "but this was a big one."
Meet the Author
---