With ad sales and book thickness taking a dive, there is one thing that's growing—partnership subscriptions. As Jack Hanrahan, publisher of CircMatters, recently outlined, partnerships—pairing a magazine subscription with the purchase of a good or service—have grown 146 percent since 2006, and 51 percent between June 2007 and June 2008, according to Fas-Fax.
Bauer Media Group president Ian Scott says, "I personally have been able to subscribe to six major magazines over the past two months—magazines such as Elle and Cosmopolitan—without paying a dime, all via partnership subscription offers."
Bauer, which claims no partnership copies, is up against titles like US Weekly, whose partnership copies increased from seven in December 2007 to 77,204 in June 2008. The goal is to give publishers a way to build paid circ. But is this actually leading to inflated rate bases?
Partnerships as Paid
For a partnership to meet ABC qualifications, the consumer must knowingly pay for both the product and the magazine (x dollars allocated). "The financial arrangement between the retailer, subscription seller or coordinator is between those parties as to whether any or all of the money paid by the consumer for the publication is forwarded to the publisher or shared with others in the sales chain," says Teresa Perry, senior vice president, publisher member audit and report processing services for the Audit Bureau of Circulations.
Whether any money goes into pocket depends on the business arrangement. "Reed [Exhibitions] doesn't write us a check for the subscription amount, but gives us value-added partnership incentives, like extra ad pages or a booth at their show," says Bob Cohn, director of consumer marketing for Bonnier's outdoors title Field & Stream.
But how can there be no definite monetary exchange for "paid" circ? Rebecca McPheters, president of McPheters & Company, believes that "What people pay for copies has no relationship to engagement," citing research that the distinction between paid and unpaid, or higher versus lower price paid, is not relevant to the ad value being offered. Cohn says his title "makes money by appealing to the right people and renewals," adding that these returns come after three or four years. "The first-time renewal rate is higher than the average agent rate, and lower than the direct publisher rate," says Cohn, citing a usual refund request between .5 and 2.5 percent. "Subsequent to that, this audience behaves similar to direct mail subscribers."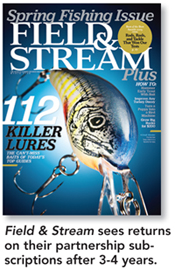 Affinity and Incentives
Eight and a half million ABC-member title subscriptions were reported as partnership for the first half of 2008. Up 253 percent from the first half of 2006, "The goal is to keep the refund request low. When we do qualified partnerships, it tends to be," Cohn says.
Bonnier offers Field & Stream, Outdoor Life, or Salt Water Sportman to advance ticket buyers of Pennsylvania-based Eastern Sports & Outdoor Show through a partnership with Reed Exhibitions. While Bonnier appears to have an affinity with its partner's product, ABC sees about a quarter of "publishers who struggle in this area," says Perry. ABC does not have a mandatory pre-approval process for partnerships, but does run an optional pre-evaluation program. "We see affinity because the retailer or partner has exposure, and the partner has to deal with customer service relationship," she adds.
Sick, or Sign of the Times?
Perry emphasizes how complicated partnerships can be. "We are dealing with major corporations, large consumer marketing, direct mail—it takes a significant investment to coordinate these partnership." She cites increases in e-commerce, online partnerships, and the shift away from third party sales as reasons for rapidly increasing partnerships. Adds Cohn: "We find it a cost-effective way to supplement direct marketing efforts."