Understanding the Impulse: What Drives Publishers to Use, and Readers to Read, Digital Magazines?

We've seen how digital magazines are growing in usage, and as they become a vital format in the publishing industry, their use and importance appears to be driven by a few common motivations—cost savings, timely international delivery, revenue generation, and—are you ready for this one—environmental concerns.
"This industry started because publishers were trying to find affordable ways to get their content overseas," says Marcus Grimm, marketing director of Nxtbook Media. "That still is a strong strategy for a lot of publishers." Delivering a digital edition eliminates the cost of paper, printing, and postage. The savings can be up to 75 percent compared to delivering a print magazine, depending on readership. Nxtbook's average customer pays a conversion price of about $1,500 per issue regardless of the size and location of the circulation. E-mail services are additional and somewhat scalable.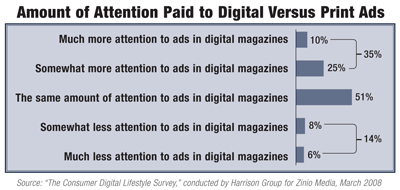 Reed Business Information, which currently has digital editions for about 50 of its magazines, began producing digital versions more than three years ago primarily as a manufacturing and distribution cost-saving measure, according to John Blanchard, vice president, operations. "The intent was to deliver replicas of our print magazines to readers who opted to receive digital editions exclusively. We would send them three issues of the digital editions and then request their compliance to convert over to digital only. On average, we have converted about 10 percent of our controlled circulation." The program has resulted in "hundreds of thousands of dollars per year across the board in bottom-line savings," according to Blanchard.
Having a digital edition of Metal Edge allows publisher Zenbu Media to send issues to heavy metal fans in Scandinavia, Japan, and other countries. "It wouldn't be cost-effective for us to send quantities of the print magazine overseas, but we can send hundreds of thousands of digital copies without a lot of hard cost," says Steve Bernstein, president. "Digital delivery gives us a great platform for getting our brand out there."
Fulfilling overseas demand for EH Publishing's Church Production title cost "a ton of money in postage," according to Elizabeth Crews, VP, audience development, "without getting any of it back on the ad side. With the digital edition, the readers get all the issues faster, and we're not hemorrhaging on postage."
Meanwhile, the digital edition of Electronic House, EH Publishing's consumer title, serves two cost-saving circulation purposes. "It allows us to eliminate bad debt and offer an inexpensive premium," says Crews. "We used to promote the magazine by offering two free issues and a speakerphone. If the prospects didn't subscribe, we were out the cost of the issues and the premium. Bad debt adds up over a year, and it's a pain to calculate for the ABC statement!" Now Crews posts a hard offer and a sample issue of the digital magazine on the Web site, and new subscribers pay up right then and there. The premium is the ability to access and search three years of back issues.
Generating Ad Revenue—or Not
Since ITEM Publications instituted digital editions back in 2005, the primary purpose has always been revenue generation. "We publish English, Chinese, and Japanese editions of Interference Technology, a journal for the electronics industry, three times a year," says Graham Kilshaw, president. "When we sell print space, we offer advertisers the opportunity to place the same ad in the digital version for a 12 percent premium." It's like selling fries with the Coke, his salespeople say. And since it's reasonably priced—and the advertisers understand the value of the growing digital audience—they go for it.
EH Publishing was also among the first to require that advertisers pay extra (a few hundred dollars) to be in a digital edition. Otherwise, the publisher would substitute a house ad. Four of EH Publishing's nine magazines have digital versions. And when that policy began, Crews felt sure they would be full of house ads. "But that didn't happen," she says. "We may have 10 house ads in an issue, but we also get a good chunk of revenue from the print advertisers included in the digital edition."
ALM Media has one paid and three controlled b-to-b magazines with digital editions, but advertising is "not at the forefront of the ad salespeople's sales pitch," says Shane Molloy, director of circulation. Digital is more of an added value—enhancements such as a digital blow-in card or popup offered gratis to get advertisers to buy more pages in the print magazine. "Over time, we hope advertisers—and salespeople as well—will get used to including the digital edition as a separate part of the sales package," he says. "Right now, it's all still very new for both."
And while Reed Business Information has earned some revenue through sponsorships—of landing pages, for example—it hasn't been huge by any means, according to Blanchard. "We're still just testing the waters. The additional revenue isn't even a blip on the bottom line."
On the consumer side, some Playboy advertisers have customized their ads for the digital edition, but it hasn't happened in a significant way, according to Phyllis Rotunno, SVP, subscription circulation. It's not a separate advertising buy; print advertisers get the digital space and can add enhancements if they wish. "Even though our digital circulation is a nice healthy number [about 70,000]," she says, "it may not be enough in terms of selling advertising. The advertising models are still evolving."
Selling advertising in digital versions does seem to be a huge challenge, according to Jerry Okabe, VP, audience marketing/circulation at Penton Media—which publishes 22 digital editions. "There are so many options available—inserting audio and video, automatic links, all sorts of creative things—that it's a real struggle selling it to advertisers." he says. "It's also new to a lot of salespeople."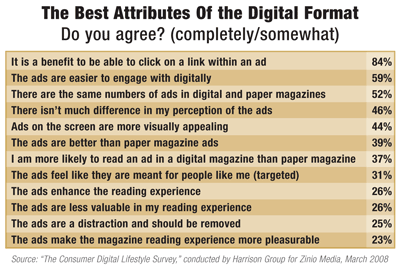 Readers of digital magazines, however, are paying attention to the ads, according to "The Consumer Digital Lifestyle Survey," conducted by Harrison Group for Zinio Media and published in March. A combined 37 percent of respondents pay more attention to the ads in digital magazines than to those in print (see chart, above). Digital ads appeal to readers for a variety of reasons—the best benefit (cited by 84 percent of respondents) being the ability to click on a link inside an advertisement.

Environmental
Publishers are also realizing that they have to consider environmental issues if they want to serve their audiences in the way they want to be served. In Texterity's second annual digital magazine readership survey, conducted in conjunction with BPA, readers ranked "environmental" as the third most important reason why they choose to read a digital edition. Searchability was first; convenience, second. In previous studies, the environmental ranked no higher than number 12 (see chart, below).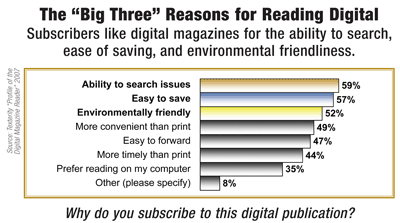 Similarly, in the just-published Zinio consumer study, "environmental concern" was the number-four factor in choosing digital over print.
"A 'green' movement is circulating through law firms both in the United States and abroad," ALM's Molloy confirms. "Some firms have actually hired chief environmental officers." As a result, ALM is increasing its circulation promotions aimed at the green aspects of digital subscriptions.
Meet the Author
---